International Trade Secretary Liam Fox has locked horns with his fellow Tory Cabinet minister Boris Johnson in a bitter turf war over who should be in charge of key parts of British foreign policy, a leaked letter has revealed.
A month after the two political heavyweights joined the government, Fox reportedly wrote to Foreign Secretary Johnson, copying in Theresa May, to suggest the economic diplomacy team should be transferred from the Foreign Office to his department.
Fox argued British trade with other countries would not "flourish" if future policy of the team – which helps promote trade and growth – remained within Johnson's remit. The letter, seen by The Sunday Telegraph, also listed a series of economic statistics which questioned the Foreign Office's ability to boost economic ties.
Fox wrote: "In my first few weeks as Secretary of State for International Trade it has become clear to me that existing cross-Whitehall structures have meant that HM Government has not taken the holistic approach it might have on trade and investment agendas."
Economic diplomacy, he said, was "crucial to delivery of the objectives I have been set by the Prime Minister as International Trade Secretary". He added: "If we are to have a rational restructuring I think there is a reasonable proposition to transfer the Economic Diplomacy function from the Foreign and Commonwealth Office into the Department for International Trade."
The foreign secretary is thought to have "firmly rejected" the demand, with the prime minister "unimpressed" by the row, according to The Sunday Telegraph.
It represents the first major sign of tensions in the government since May replaced David Cameron as prime minister and leader of the Conservative Party in July.
May surprised many by appointing Johnson as foreign secretary and creating two new cabinet posts to focus on Brexit and boosting international trade. The roles all handed key posts to Tory MPs who, unlike May, backed leaving the EU.
David Davis, a former Europe minister, was handed the role of Brexit Secretary, while Fox was appointed leader of the Department for International Trade.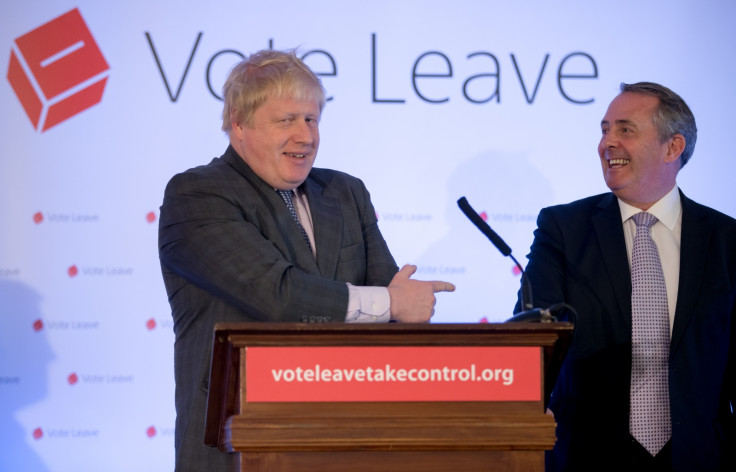 Johnson was told his department would have to share the official residence of the Foreign Secretary, Chevening House, with Fox and Davis in a move that Whitehall insiders said could cause tension between the three political heavyweights.
Emily Thornberry, the shadow foreign secretary, suggested May was to blame for the recent row between Fox and Johnson. "She created these three separate departments, not because it made sense in terms of coordinating Whitehall's management of Brexit, but just to buy the loyalty of Liam Fox, Boris Johnson and David Davis," she told the Guardian.
A government spokesman said: "We don't comment on leaked documents. Alongside other departments, the FCO are seconding a small number of staff with relevant expertise to the new Department for International Trade.
"This is all part of the cross-government effort to ensure we make a success of Brexit."