Great Britain's Liam Phillips is through to the semi-final of the men's Olympic BMX competition after three consecutive second place finishes in the quarter-final phase.
Phillips, who was seeded 12th for the quarter final after Wednesday's time trial, began in the third gate; a major disadvantage in his attempts to reach the semi-final.
But the 23 year old claimed three second place finishes behind American Connor Fields, who beat Phillips to the world time-trial championship in May and goes into the semi-final races with an 100% record.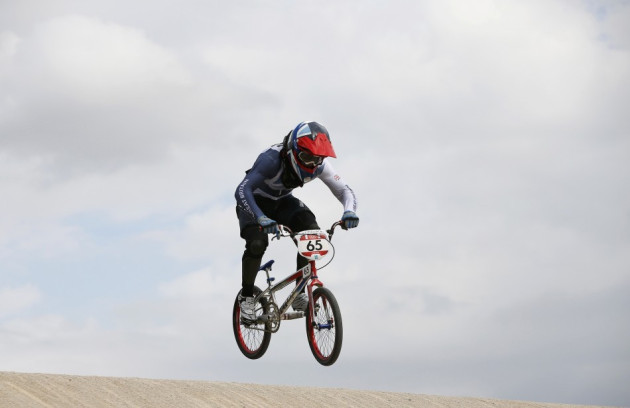 "I had lots of fun out there today, it's what I dream of really," said Phillips. "I have competed in this sport since I was five. I still can't comprehend it now, 6,000 people have paid to come and watch, it's really special."
"It's a good start but I'll draw a line and look forward to tomorrow. I've been on the receiving end of a lot of crashes but you try and block it out, you focus on your own stuff and take one lap at a time."
"The 16 guys that make it through are going to be in the top 16 in the world, so I am just going to go out there tomorrow and enjoy riding my bike."
The Brit, who returned from a broken collarbone to compete at London 2012, used his strong start to gain an advantage over his rivals, immediately seeking the inside line as he steered away from a series of crashes at the back of the field.
After failing to trouble Fields in the opening two races, Phillips was put under pressure by Latvia's Rihards Veide in the third but he reached the line first to avoid an additional two races.
Fields and Phillips qualified from heat two with Columbian Andres Eduardo Jimenez Caicedo and Veide, while No.1 seed Raymon van der Biezen won all three of his races to reach the semi-final.
Phillips has been drawn in gate five with both Van der Biezen and Fields for the semi-final, where he must finish in the top four after three races to reach the eight-man final.
Shanaze Reade continues her campaign for Olympic glory in her own semi-final and after qualifying fifth fastest will start in the third gate for the three races.