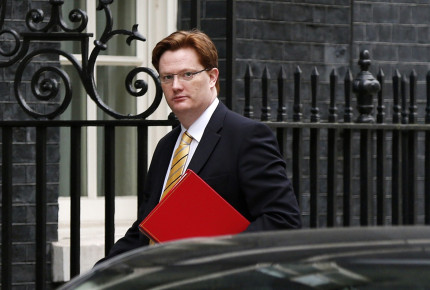 Perhaps it is a sense of having little left to lose that has sparked the recent outbreak of macho politics coming from the Liberal Democrats.
But in the space of two days the party has defiantly threatened to bring down any Tory or Labour minority government after the general election, unless they are included in a coalition government.
And it has persisted with the most pro-EU campaign of any party in the run up to the crucial European parliament elections next month, despite all the signs that voters remain deeply Eurosceptic and could push them into a humiliating fourth place as a result.
Nick Clegg's wife Miriam Durantez clearly has a point when she suggests her husband has "cojones" and the same can now be said of his colleague, Danny Alexander, who has launched a pre-emptive strike over any post-election deals in the event of another hung parliament.
Launching the Lib-Dem EU election campaign, Clegg was unrepentant in his determination to be the only major party fervently supporting the EU, saying: "The fight is on. The isolationists are not going to get a free run of this debate any more".
Branding Ukip "populists and xenophobes", he said they had to be stopped and it was up to him to do it as the other two parties were "missing in action" because they were running scared of Nigel Farage.
But it is not just Clegg's refusal to be cowed by the double-headed drubbing he was given by Ukip's Nigel Farage in their TV debates earlier this month that is leading to the impression the party is pursuing a high-risk strategy.
Treasury secretary Danny Alexander, who was the key negotiator in the last coalition deal, has announced that it would "not be in the national interest" for the party to help prop up a minority government if no one wins an outright majority at the next election.
The only way they would co-operate to keep a party in power would be in another coalition. And he insisted he was prepared to go into partnership with either Labour or the Tories.
Almost as an aside, he also refused to rule out standing for the leadership should the opportunity arise, which is perfectly possible after the next election if Clegg leads the party to humiliation.
The immediate reaction to his remarks was that they were borne out of desperation amid growing signs that neither of the big two parties are attracted to the idea of another coalition and might attempt to go it alone, relying on the smaller parties to help them get their legislation through parliament.
His comment was seen as a form of premature negotiating over a coalition even before the election has started. But there is a huge risk here by suggesting that, unless his party is included in another coalition, it would refuse to back the minority government in Commons votes and therefore inevitably bring it down.
All the evidence suggests that could very well backfire, first because voters do not relish the idea of two general elections in quick succession, which there would have to be, and secondly it could ensure a clear majority for one of the big parties as voters reacted to the chaos, as former Tory prime minister Ted Heath discovered in 1974.
So it is a high risk game but, cynics might suggest, the party is running out of gambling chips.