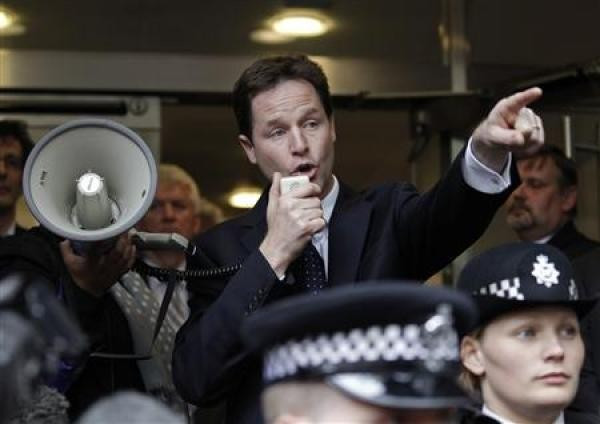 After Nick Clegg's speech last Tuesday to the party faithful, the TV cameras panned the audience rising to their feet to give their leader a standing ovation. There was no euphoria, no rapture. Instead, the standing was one of duty felt and many of the smiles were like a milk pudding hating child swallowing his custard before his mother.
This was not meant to be happening for many in the hall. Only some five months ago, a clear Conservative victory was going to put the Lib Dems in their usual comfortable, opposition station in life, able to take the moral, principled high ground against whichever party might win. Maybe a modicum of influence but no power to make any significant changes.
Now with a little power and remembering Uncle Ben's words to his nephew, Spiderman: "With great power, comes great responsibility", it is obvious that the licence to criticise will need to be used with much more caution than in the past. Apparently, this is already in effect with all main speeches by party leaders and Cabinet members being passed through the Coalition - effectively the office of No 10 Downing Street - beforehand.
The really tough part for many Lib Dems is that in addition to the terms "power" and "responsibility", must be added others, like "unpopularity" and "defections". This is causing alarm amongst Lib Dem activists who look forward to next May's local elections with increasing trepidation - never mind 2011's party Conference. The Coalition, not yet five months old, Nick Clegg told the Conference that they must hold their nerve, the Lib Dems were and are playing a significant part in influencing Conservative policy and they would be justly rewarded in the end he promised.
For all this encouragement from the leadership of the party, the Conference has brought to light a clear gulf between its more centrist position and the more radical, left-of-centre party membership. The activists of the party have ever been thus. Those of a certain age will recall many rebuttals against official policy from the floor, the Young Liberals come particularly to mind. Back then, it didn't really matter, not even during the Lib Lab Pact. Today it matters very much more. The Pact was little more than a gentleman's agreement, it was never a coalition.
True to form then, on Monday, 20 September 2010, "Liberal Democrat activists have overwhelmingly voted for a boycott of the coalition's flagship 'free school' reforms, claiming the move would be socially divisive and unfair." reported the Financial Times. Mr Clegg chose not to attend and the motion will have virtually no affect on the education policy of the Government. This is particularly so when senior MPs like David Laws, the former Chief Secretary to the Treasury, have been urging reform in the education system for years. The Financial Times went on to report that Ms Sarah Teather, Lib Dem minister in the Education Department, defended the Coalition's policy, attacked the motion as "illiberal" and urged delegates not to "tie our councillors' hands".
Later in the week, on Wednesday, 22 September, 2010 the Lib Dems discussed the Trident nuclear submarine replacement, maybe the most contentious issue dividing the Coalition partners. During the debate, Nick Harvey, Lib Dem Armed Forces Minister, told the conference delegates that delaying the replacement for Trident "would have little military or industrial significance". Whatever effect Mr Harvey intended saying this, it immediately set alarm bells ringing in Liverpool, London and no doubt further afield. Barrow-in-Furness comes to mind, where the UK's nuclear subs are built. The Times' front page headline on Friday 24 September read: "Britain promises US it will keep nuclear option", followed by a leader on page 2, "Why Trident is money well spent" and continued on page 8, just in case Mr Harvey didn't get the point.
For 65 years before the 2010 General Election, the Liberals/Liberal Democrats had no effective force in Parliament and the change in their fortunes in this regard was neither ideal nor easy to deal with. They could have thrown their lot in with Labour, after all Lib Dems are a party of the centre-left. They could have simply allowed the Conservatives to form a minority government. Both options were more attractive to more of the rank-and-file than the course the party leadership chose. The choice made has cost the party between 20,000 and 35,000 defectors, depending upon which Labour Party MP/activist you listen to, with the prospect of many thousands more. The Lib Dem leadership and those who stay the course are deserving of respect. Unfortunately that might be of little comfort to many of their councillors.
Which came first, the gradual increase in Lib Dem Parliamentary representation or that of local council representation in England and Wales, I don't know, but where the Lib Dems have had real influence and the power to make decisions, is at the local authority level. This is true both where they have an outright majority on many councils or where towns and cities have no party in overall control. It is many of these councillors who feel particularly vulnerable and will continue to do so once Government spending cuts and the rise in VAT really start to bite in early 2011.
Newcastle City Council has 78 members currently made up of 41 Lib Dems, 39 Labour and 2 Independent members. In 2009, it had 50 Lib Dem and 28 Labour members. Hull is a city with 59 councillors, 32 Lib Dems, 23 Labour, 2 Conservative and 2 Independents. Sheffield has 84 councillors - Lib Dem 41, Labour 39, Green 2, Independent 1 and presently, 1 vacancy. Liverpool has 90 councillors, 48 Labour, 36 Lib Dem, 3 Liberal, 2 Green and 1 vacancy.
Each of these cities has a very large public sector. Recent estimates in Liverpool put the public sector share of the economy at nearly 40 percent. At the General Election on 05 May 2010, there was also a local election for a third of the City Council, the results are interesting.
Council Election Parliamentary Election
Labour 20 51.29% of votes 5 61.31% of votes
Lib Dem 9 29.35% 0 20.98%
Liberal Party 1 5.86% 0 1.75%
Conservatives 0 7.24% 0 10.30%
Green 0 4.59% 0 1.03% The turnout for both was just over 56%
Liverpool's Lord Mayor is currently Councillor Hazel Williams of the Liberal Party.
Worryingly for the Lib Dems, their share of the vote had reduced from the 2005 Parliamentary General Election when they got 25.66 percent.
Finally, on Saturday 25 September 2010, Labour elected their new party leader, Ed Miliband, not an easy choice for the Lib Dems as many of their activists might well already think that he is closer to their political beliefs and aspirations than Nick Clegg and the Lib Dem holders of Government offices.
Second in each of the first three ballots to older brother David, he triumphed in the fourth and final ballot by Labour's transferrable voting system. It will be little consolation to Lib Dems that many in the Labour audience in Manchester rose and applauded in like spirit to their Leader's final address because neither the Labour Party membership voted for him nor the Parliamentary Labour Party. Ed won by the third share of the total vote allotted to Trade Union members who pay the political levy to the Labour Party. This resulted in some 147,000 votes to David Miliband and 175,000 votes to Ed Miliband but the younger brother being declared the winner by only 1.3 percent.
On 09 September 2010, The Sun reported that the Unions had spent half a million pounds supporting "Red" Ed Miliband stating that the GMB and Unite unions had sent letters to members urging them to vote for "the left-winger" and claims that in return they want "Ed to boost their power if he ever gets to No 10" The article goes on to claim that the GMB spent some £120,000 posting ballot papers to 610,000 members and Unite, some £200,000 on pro-Ed letters and a further £20,000 in texts to 1.1 million members plus tens of thousands in donations from both Unions.
Life at the top is never easy!