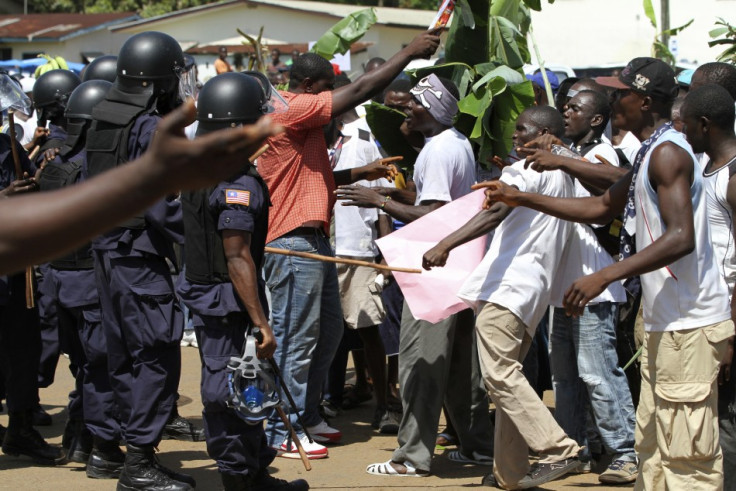 Nobel Prize Ellen Sirleaf Johnson is set to win Liberia's presidential elections after her main opponent Winston Tubman dropped out of the electoral race, but an outbreak of violence ahead of the vote has raised fears of anarchy returning to the streets.
Tensions rose ahead of today's presidential elections in Liberia as the opposition called for a boycott, and one person was killed following violent clashes between the opposition and the police.
The boycott clearly hampered voters' mood as the turnout was low early on,
Johnson Sirleaf, who had previously said she would not run for a second term is now set to win the first locally organised elections since the civil war.
Tubman, who won about 33 per cent in the first round had said there was evidence of fraud during the ballot and announced he would only participate in a second round if it was delayed by at least two weeks and counting procedures were changed.
However as tensions between Tubman supporters and the police rose, ahead of the vote Reuters news agency reported that Liberian police stormed the opposition party headquarters before being repelled by UN peacekeepers, who had set up a cordon around the building.
Police also reportedly used tear gas and was also accused of using live ammunitions.
While the vote was set to help promote the country's new found stability and reassure potential foreign investors that Liberia is well on its way to recovery, the tensions are now threaten an already fragile situation.
Amnesty International has already called for an investigation into Monday's killing and reiterated its call for peaceful elections, as fears violence could return to the streets increased.
Tubman, a Harvard-educated who was also a UN ambassador used the latest incidents to openly criticise the Nobel Prize winner saying "It shows to you why the Liberian people are determined to get rid of this leader. She is somebody who will use violence against peaceful people."
More accusation against the Johnson Sirleaf government followed after it emerged that two pro-opposition radios were shut down by the government forces.
"Armed policemen came to the station while we were giving news. They put a journalist under gunpoint and asked him to leave. They brought a (court order) based upon the complaints by the justice minister and the minister of communication," Paul Mulbah, station manager for Love FM, one of the radio that was shut down told Reuters.
"It is unfortunate. We have gone back to the old days, "he added.
The incidents and apparent involvement of the police on a violent crackdown on opposition supporters are set to tarnish Johnson Sirleaf's reputation.
The President has been widely praised by the international community and was listed by Newsweek in 2010 as one of the ten best leaders in the world.
However, the international praises came just a year after Liberia's Truth and Reconciliation Commission recommended that she be barred from holding public office for 30 years for her role in backing Charles Taylor, a former president of Liberia charged with five counts of crimes against humanity (murder, rape, sexual slavery, other inhumane acts and enslavement); five counts of war crimes (acts of terrorism, murder, outrage upon personal dignity, cruel treatment, pillage); and one count of other serious violation of international humanitarian law at the Hague.
While the latest outburst of violence raise questions about the President's running of the country and of the state's security forces, Tubman has also been widely criticised for his decision to withdraw from the presidential race.
The United States, the United Nations, ECOWAS (Economic Community of West Africa States) and the African Union have all criticised Tubman's decision and observers have warned his decision was motivated by the fact that Johnson Sirleaf was announced as the favourite rather than because of fraud.
Liberia is still a very poor country and despite huge progress, civil war-related tensions and divides are still present, so a rise in violence could bring back old enmities to the surface and threaten an already fragile stability.