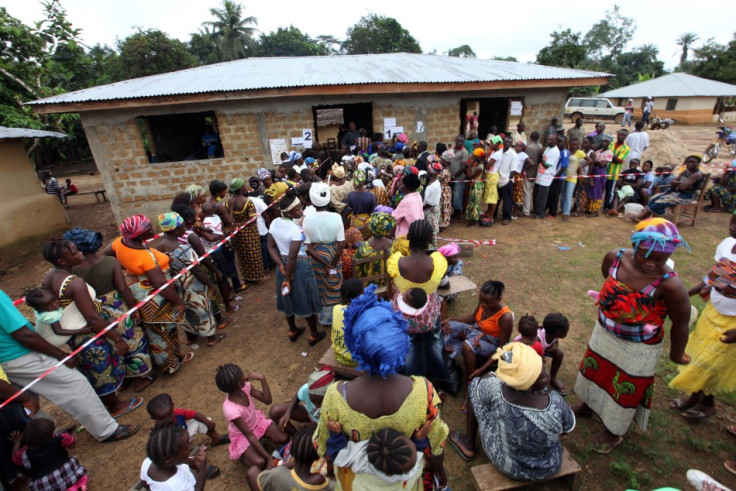 Bad weather and rain did not prevent Liberians from lining up to vote Tuesday in national presidential elections, marking the second time Liberians have voted since the end of a 14-year civil war, with current President and Nobel Prize winner Ellen Johnson Sirleaf facing as a main competitor football star George Weah.
Anticipation could be felt from Monday as some voters arrived at polling stations overnight, in a bid to be among the first to cast ballots in the presidential poll, since organised by Liberians, the elections stood in contrast to the 2005 vote, largely staged by the UN.
Earlier opinion polls, revealed Johnson Sirleaf faces stiff competition as in addition to facing a dozen of opponents, she faces George Wea, who came second in the 2005 Presidential elections.
This year, Weah only runs as vice president alongside Winston Tubman, a Harvard Graduate, just like Sirleaf and descent of the American slaves who for long ruled the country, but the duo's association has proved popular among Liberians, illustrating a mix of western-backed education and populism.
Weah, who played for leading teams in France, Italy and Britain, told reporters who interviewed him just after he casted his vote that excess ink was soiling and potentially disqualifying the forms, striking a popular cord, with his fellow citizens.
The former football star has also fairly well handled his critics' attacks, often pointing out to his lack of education, telling the press "Our team represents the people. Our team is the team that will reconcile the country."
Meanwhile, despite being internationally acclaimed for her role in bringing the ravaged African country on the road to recovery, and erasing billions of dollars in foreign debts, Sirloin's opposition insist she has failed to bring down high levels of poverty and unemployment.
Initials results of the election are now expected to be announced on Wednesday, with final results set for October 26, Liberia's election commission has said.
If no candidate wins an outright majority, a run-off will be held.
Critics of the President have also questioned the timing of Friday's announcement of the Nobel Prize, which Sirleaf won along with two other women and highlighted her initial support for former President and warlord Charles Taylor, currently on trial at The Hague for war crimes charges in Sierra Leone with a verdict expected in 2012.
The Liberian leader has also been criticised for ignoring recommendations by Liberia's Truth and Reconciliation Commission that she should be banned from public office for 30 years for her support of Taylor.
Sirleaf acknowledged financially supporting Taylor but says she withdrew her backing as soon as she became aware of his brutal tactics.