Silvio Berlusconi 'Ordered Italy's Secret Services to Kill Muammar Gaddafi'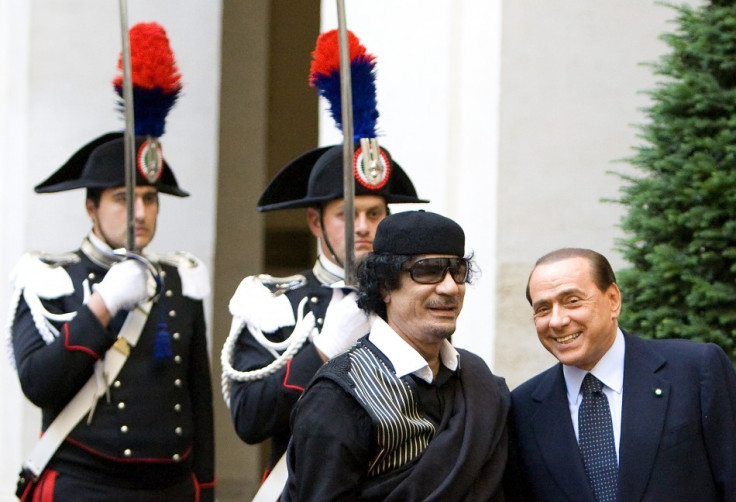 Silvio Berlusconi demanded Italian secret services kill his one-time friend Muammar Gaddafi, a diplomatic source has revealed.
The former Italian Prime Minister reportedly made the request as Italy joined the Nato intervention against the Libyan dictator in 2011, just months before he was killed.
A source close to Italy's defence and security appartus told newspaper Il Fatto Quotidiano that Berlusconi put the request to the Italian secret service, asking "can you gun down Gaddafi?"
According to the newspaper, Berlusconi wanted to prevent embarrassing revelations about his relations with Gaddafi emerging in the event of a trial against the colonel.
"It is possible. Berlusconi was worried, as he might have faced some difficulties because he was considered as too close to the Libyan leader," Italy's former defence minister and Berlusconi's ally Ignazio La Russa said.
Before the Libyan uprising, Berlusconi shared a friendly relationship with Gaddafi, boosted by the latter's many business interests in Italy.
Libya, a former Italian colony, was Italy's main oil supplier and Gaddafi's government held shares in number of strategic companies including Italy's largest bank Unicredit, industrial group Finmeccanica and even Juventus football club.
In 2008, the two leaders signed a treaty of "eternal friendship" between the two nations. Two years later, to celebrate the agreement anniversary, Gaddafi was welcomed by some 500 girls to whom he imparted a lesson on the Koran.
Weeks before the start of the uprising in Libya, Berlusconi told a news conference he was "tied by a true friendship" to Gaddafi and others leaders of Arab Spring-affected northern African countries, including Tunisian Ben Ali and Egyptian Hosni Mubarak.
Change in stance
As Italy joined Western efforts to support the Libyan rebels and topple Gaddafi, Berlusconi's erstwhile friend reportedly went berserk.
"I'm so shocked. I feel betrayed. I don't know what to say to Berlusconi," the Libyan dictator told the Berlusconi-owned Il Giornale newspaper.
According to Italian former foreign minister Franco Frattini, Gaddafi also threatened to turn Lampedusa "into hell" by infiltrating Libyan refugees on the southern Italian island with armed fighters.
Berlusconi's request to silence Gaddafi was not carried out by Italian secret services and the dictator was killed by rebels in October 2011.
Il Fatto Quotidiano's report has been described as baseless by Berlusconi's entourage. The newspaper is renowned for its journalistic campaigns against the media tycoon.
"Il Fatto Quotidiano's asserted report is completely false, not credible, absurd and unacceptable," said Berlusconi's spokesman Paolo Bonaiuti.
© Copyright IBTimes 2023. All rights reserved.