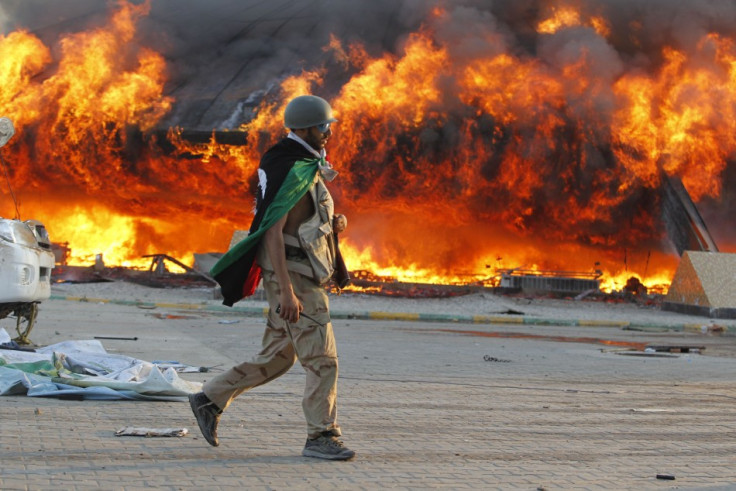 After months of conflict, the rebels control most of Tripoli, but there is still no news of Moammar Gaddafi and his followers are still setting up resistance.
The dictator's whereabouts remain unknown, but according to his camp, he is set on staying in Libya, vowing "martyrdom or victory" in the fight against "aggression."
On Wednesday, Reuters reported fighting was still going on near the Rixos hotel, where armed Gaddafi loyalists have prevented foreign journalists from leaving, and in eastern areas of the city.
A Reuters reporter near the hotel around midday (6 a.m. EDT) heard rifle fire and heavy anti-aircraft guns, which have been used by both sides against ground targets.
Earlier in the morning, a Reuters reporter inside the hotel, Missy Ryan, said food and water were running low. Pro-Gaddafi gunmen who had patrolled the hotel compound were no longer in sight, she said, but it was not clear if they had withdrawn.
Residents remained fearful, with empty streets, shuttered shops and piles of garbage testifying that life is still far from normal in the city of two million. Rebels manned checkpoints along the main thoroughfare into the city from the west.
People were defacing or erasing Gaddafi portraits and other symbols in a city where they were once ubiquitous. They painted over street names and renamed them for rebel fighters who had become "martyrs." Plaques were torn off government offices.
"There are some fights going but hopefully today everything will be over," one rebel fighter said.
With Gaddafi loyalists still patrolling some areas, Tripoli and the rest of the country are still clearly at war.
Hospitals are overflowing with casualties and doctors have launched desperate appeals for more medicine and supplies. Reports of the wounded being left in the street because of supply shortages or lack of space in hospitals have emerged.
Armed rebellion, even against dictators, always has consequences, and the aftermath of the conflict could exacerbate the impact of months of war.
The BBC reported a group of 35 foreign nationals, mostly journalists, are being held inside the Rixos hotel by guards loyal to the former regime, with dwindling supplies of food and water.
Clearly, loyalists are determined to fight for their leader until the end. Some analysts say the loyalist forces are made up of soldiers but also of civilians coerced into fighting for Gadhafi.
With NATO claiming that the rebels are now in control of 80 percent of the capital however, it seems those fighting on the Gadhafi side are more at risk from the rebels' reprisals than from the colonel's wrath.
The Libyan leader has positioned himself as a martyr, a victim of the West, a move previewed by his son Saif al-Islam just a few weeks ago when he gave an interview to The New York Times, sporting his newly grown beard and fiddling prayer beads.
No one knows what will become of the old regime's fighters in the coming months. As the fighting goes on, observers fear more violence and looting.
The leadership of the National Transitional Council say they now want to reach out to policemen and soldiers whom they now need to help keep order, but rebel fighters have made it very clear they will not spare the men they saw as siding with Gaddafi. While NTC leader Mustafa Jalil has warned fighters not to carry out revenge killings, it will be difficult for the leadership to keep tabs on what is happening on the ground.
Doubts over the NTC's ability to transform the rebel army into a cohesive force were also mounting after the rebels claimed they had arrested Saif al-Islam, even negotiating his transfer to The Hague with the International Criminal Court's chief prosecutor.
Hours later, however, Saif gave an interview to a BBC crew, proving he was a free man, and another of Gadhafi's sons, who was allegedly captured, later managed to escape.
It will be very difficult to ensure that the different factions making up the rebel camp can all work within the same framework while being given equal political space.
Moreover, as long as Gaddafi is free, fears he will strike back will remain.
As the conflict nears its end, several questions, crucial for the future of Libya remain unanswered. From a military point of view, to what extent can the West continue to support the rebels as they engage in combat inside Tripoli?
NATO's mandate in Libya is to protect civilians, but as the risk of civilian casualties is greater in urban centres, by providing the rebels with arms, the alliance risks negating UN Security Resolution 1973.
On the other hand, will the NTC be able to keep a lid on tribal and religious tensions? And finally, will the NTC be able to secure the finances necessary to develop as a political organ, inject cash in government institutions, while helping rebuild the war-torn country? Many people have stopped working as they stopped being paid and thousands who fled to conflict zones are now internally displaced, in a very precarious situation.
The power and influence of the alliance in shifting the conflict in favour of the rebels whilst using military tactics was never questioned but it is rather it's ability to successfully manage state-building that raise questions. Iraq and Afghanistan illustrate the difficulty of the tasks. Countries like Somalia also prove that despite a UN intervention and a Western-backed government, armed insurgency can be extremely resilient.