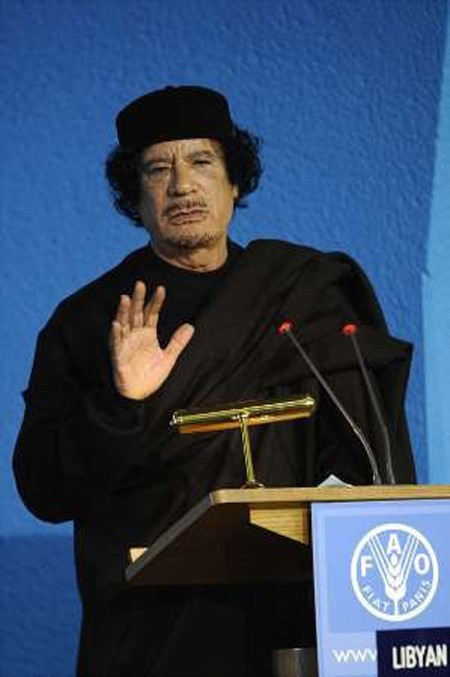 While the world asks what will happen to Moammar Gadhafi in the coming hours or days, rumours are rampant about his whereabouts and his next move.
South Africa is denying any offer to give Gadhafi refuge, and Foreign Minister Maite Nkoana-Mashabane said at a Monday morning news conference in Johannesburg that the government had not sent aircraft to Tripoli to ease his exit,
Some sources now say Algeria might take the dictator, but the government has not commented. For months, Algeria has denied charges it was sending troops and arms to the Gadhafi regime.
Other sources hinted at the possibility of the dictator killing himself rather than surrender, but AbdelSalam Jalloud, a former prime minister and number two who fell out of favour in the 1990s, insisting in an Italian television interview Monday that Gadhafi does not have the inclination to end his life as Adolf Hitler did.
Jalloud, who defected Friday and turned up in Rome, told Italy's state broadcaster, RAI: "He's not like Hitler, who had the courage to commit suicide, he doesn't have that courage."
But it will also be hard for Gadhafi to flee Tripoli, he said. "All the roads are under rebel control."
Jalloud said Gadhafi's tribe is "honourable" and must recognise that the game is up. They should now abandon him, otherwise they will be left facing the consequences, he added.
With two of Gadhafi's sons captured, the International Criminal Court in The Hague is in talks with the Libyan transitional government about the surrender of Saif Al-Islam Gaddafi to the court.
"The court as a whole is involved," spokesman Fadi El-Abdallah told AFP, answering "yes" when asked if that meant discussions were under way for a handover.
As the ICC does not have police powers, Gadhafi's arrest would have to be made by the Libyan rebels or by another nation's police if he manages to leave Libya.
"We're discussing his surrender," El-Abdallah told Reuters in Monday. "There are three arrest warrants and there's no arrest warrant for the other son," he said, referring to Mohammed Gadhafi, who was also arrested, Al Jazeera television said.
The court issued arrest warrants June 27 for Moammar Gadhafi, his son Saif and military intelligence chief Abdullah al-Senussi, the dictator's brother-in-law.
The three men have been charged with killing, injuring, arresting and imprisoning hundreds of civilians since the uprising began in February.
NATO said Monday it would continue air patrols over Libya until all of Gadhafi's forces surrender.
Reports emerging from Libya however suggested that the forces fighting for the National Transitional Council said they instead want the West to step back now that Tripoli has fallen.
Latest reports from Libyan rebel officials suggest that by Monday morning, the rebel fighters had taken control of over 95 per cent of Tripoli, while the NTC has already announced it plans to move its headquarters to Tripoli from Benghazi.