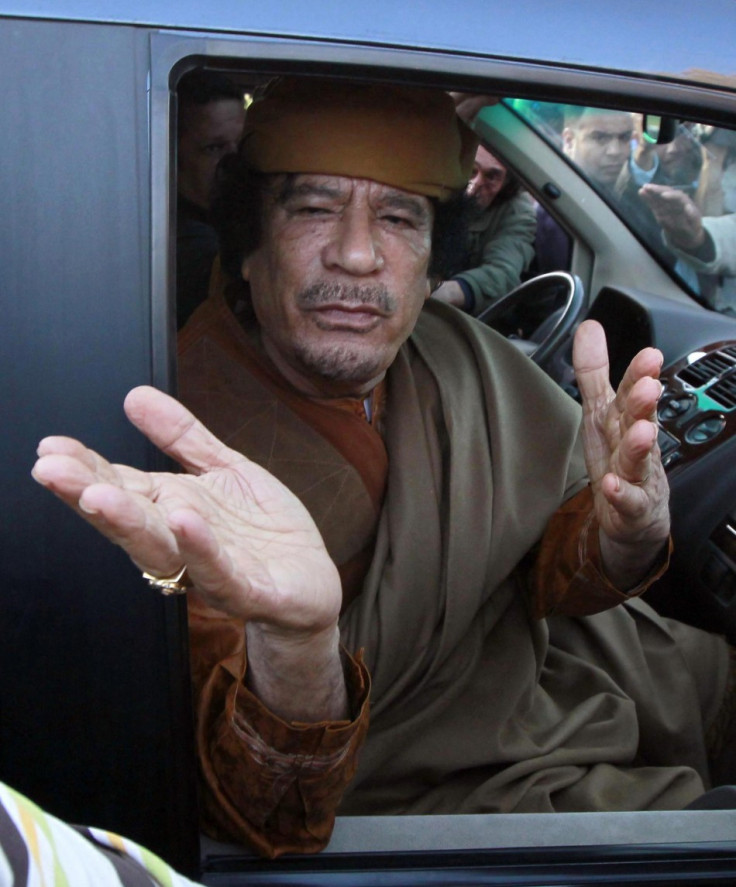 Gaddafi's compound might now be in the hands of the rebels, but the leader is not yet ready to relinquish power.
Despite national and international calls for the leader to surrender, if Gaddafi stays true to his words, he will stay in Libya to fight, saying he is prepared to be killed, or as he puts it, "martyred."
While the International Court has made it clear it wants the Libyan leader if he is arrested, rebels are divided over trying him in Libya or even killing him on the spot.
Despite the National Transitional Council leader Mustafa Abdel Jalil's calls for the rebel fighters not to carry out revenge killings, it will be difficult for the leadership to keep tabs on what is happening on the ground and rights groups and activist have already warned against the increasing number of casualties.
An NTC spokesman said they expected to capture him within two days, but the fake arrest rumours surrounding Saif al-Islam Gaddafi, and the escape of another of the leader's son have damaged the credibility of the council.
As the rebels were marching through the gates of Gaddafi's compound, messages from the dictator were broadcast on various pro-Gaddafi channels, proving the leader is still defiant of what he calls "the rats."
While many try to understand how the leader escaped his compound, the latest speculations suggest "the mad dog of Africa" may have used a secret network of tunnels to escape. U.S. sources believe he remains in the country.
Continuing to tease his opponents and still stirring up controversy, a message from Gaddafi on an Arabic TV station warned his disappearance from the compound was a "tactical withdrawal."
He also suggested that until recently at least, he had still been in the capital. Insisting "I have been out a bit in Tripoli discreetly, without being seen by people, and... I did not feel that Tripoli was in danger."
When his son Saif al-Islam emerged on the streets early Tuesday morning and was asked whether his father was still in Tripoli, he responded spontaneously to the journalists "Yes, of course."
Despite hiding away, Gaddafi has managed to stay in the spotlight by releasing outrageous messages and benefiting from Saif's latest PR coup.
The "mad dog of Africa" is also apparently on the path to become a saint after he promised "death or victory" against the rebels and called on the residents to "cleanse" the capital, while his spokesperson threatened Gaddafi loyalists were likely to carry on fighting "not just for days or weeks, but for years." Could Gaddafi be more frightening when out of power than in power?
The scene of rebels rushing through his compound showed the myth is definitely crumbling as statues and images of Gaddafi were destroyed as a sign of victory, while the rebel flag is now set on his former base and his dear tents were set on fire. Also, despite providing his supporters with audio messages, the colonel has not been seen in public since May, and one of his last TV appearances was in mid-June when he was pictured playing chess with the president of the World Chess Federation, Kirsan Ilyumzhinov.
Libyan officials seem to indicate they expect Gaddafi to now appear in Sirte, his home city, which is still in the hand of his loyalist forces, but it will be very difficult for him to travel freely around the country.
Countries participating in the NATO operation in Libya have vowed to use their intelligence services and resources on the ground to try and trace the fallen leader, but their efforts have so far remained inconclusive.
NATO has also said it will use its surveillance planes to look out for any signs of a possible escape across the desert.
Thinking about how Gaddafi will be found out brings to mind images of Saddam Hussein emerging from a hole with his hands held up, and analysts question whether the Libyan could suffer the same fate.
Despite a growing number of states turning against him, Gaddafi still has some friends on the African continent, so it seems unlikely he will try to hide underground for months.
Other rumours say he left Libya a long time ago, maybe at the same time his daughter Aisha reportedly left for the EU with Gaddafi's wife and grandchildren.
South Africa was forced Monday to deny it had sent planes to Libya to help Col. Gaddafi escape, with Foreign Minister Maite Nkoana-Mashabane saying: ""The South African government would like to refute and dispel the rumours and claims that it has sent planes to Libya to fly Col. Gaddafi and his family to an undisclosed location."
Algeria has also been mentioned as a possible destination as rebels have been quoted as saying that the colonel and some of his family are "near to the Algerian border," but for now, Gaddafi is still one of the most wanted men on the planet.