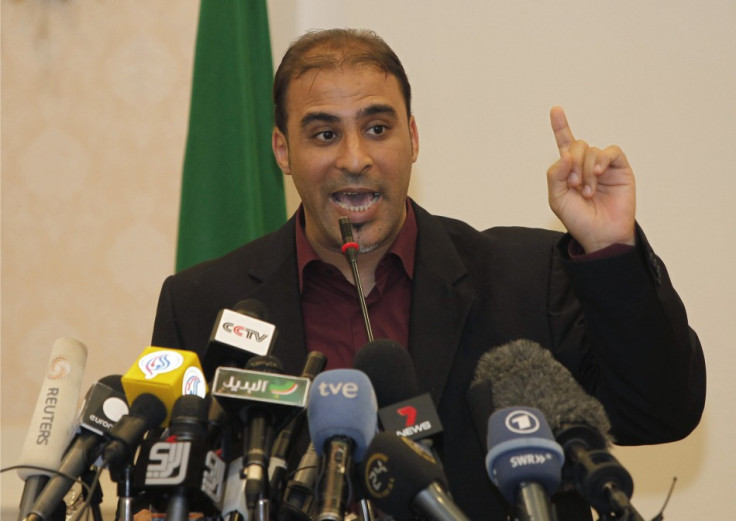 Unconfirmed reports that Moussa Ibrahim was dressed as a woman as he attempted to flee Sirte, where the NTC fighters are currently fighting pro-Gaddafi forces emerged just after Mustafa bin Dardef a commander for the NTC's Zintan brigade said: "Misrata fighters contacted us and gave us the information that Mussa Ibrahim has been captured."
Mohammed al-Marimi, another commander also said "Moussa Ibrahim was captured while driving outside Sirte by fighters from Misurata."
Ibrahim had taken a centre stage during the conflict, relaying Gaddafi's vision of the conflict and criticising the NTC and NATO in front of the foreign media.
Despite Gaddafi being ousted Ibrahim had continued issuing statements through Syrian-based Arrai television.
Late last week, he appealed for resolve against "agents and traitors," denounced what he described as "genocide" by NATO and its "Libyan agents," and blamed the international community's "inaction."
Just like Gaddafi, Ibrahim had been in hiding since the NTC fighters took control of Tripoli and until Thursday September 29, his whereabouts had remained unknown until yesterday.
His capture came as forces loyal to the transitional government seized the airport in Sirte which they had tried to break for several days.
The now partly destroyed airport is yet another illustration of the impact the conflict has had on infrastructures and buildings and proving that once elected, the new government that will replace the transitional administration will have to pour millions into reconstruction projects.
However doubts about the veracity of the announcement have already surfaced after the fighters' high command in Libya's third-largest city Misrata said it was unable to confirm the capture of Ibrahim.
Meanwhile Libya's Al-Hurra Misrata television announced it would broadcast footage of Ibrahim's capture, showing him being detained in the back of a car outside Sirte wearing a veil.
Confusion further grew when a spokesman for the Misrata military council, Adel Ibrahim, told AFP: "If the Misrata fighters had captured him, they would have told us."
The former state television channel Allibyia also hit back at the claim and denied Ibrahim had been captured.
"Mussa Ibrahim has not been captured," "This is a mendacious rumour aimed at distracting attention from the rebels'... defeat at the hands of the heroic forces in Sirte," it said on its web site.
Other developments showed that NTC efforts to secure the extradition of fugitive members of Gaddafi's son Saadi took a blow after a rebuff from Brigi Rafini, Niger's prime minister who refuted potential extradition, despite an Interpol arrest warrant being issued against him.
Instead Rafini said Saadi was safe and "in the hands of the Niger government" in the capital Niamey, but added "There's no question of him being extradited to Libya for the moment," hinting that he would not receive a fair trial if sent home.
Fighting extradition from Tunisia Gaddafi's former prime minister, Al-Baghdadi Ali al-Mahmoudi, has begun a prison hunger according to his lawyer said yesterday, but it is not clear whether Tunisia will send the politician back to Libya.
With neighbouring countries proving they are still questioning the NTC's abilities, clearly before making announcements the NTC commanders should show uniformity and verify the information they advance. In the last few months most of the reports concerning Gaddafi and his family whereabouts coming from the NTC have proven unfounded, affecting the transitional government's ability to form cohesive and transparent foundations for Libya.