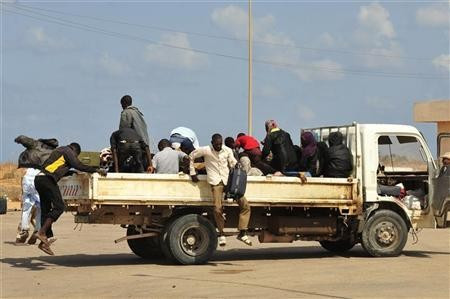 As the Battle for Sirte continues, more and more residents of the city which also is Muammar Gaddafi's birth-place, have started to blame Libya's new transitional government and its Western allies for the death and destruction brought on their city following weeks of fighting.
While a cease-fire was held over the week-end to enable inhabitants to exit the city, many refused to leave saying they had nowhere else to go and were scared their houses and possession would be ransacked and vandalised.
The new climate of fear is also stopping citizens from clearly talking about their allegiances for fears of being accused of supporting Gaddafi and targeted by the National transitional Council's (NTC) forces.
If under Gaddafi, criticising the regime could easily lend people in jail, observers feel, the new regime could slowly also heading towards that direction as any form of disagreement with the forces it seems systematically imply an allegiance to the Gaddafi regime.
However, in the last few days, some have openly talked about their anger at and dissatisfaction with the NTC.
"This country has been built around one man. If he is over, Libya will be over," said a resident who gave his name as al-Fatouri, standing outside his home on the outskirts of Sirte told reuters.
"Gaddafi is like a picture frame. When part of the frame is hit, the whole picture will be destroyed, Libya will be destroyed," he added.
Sirte is set to be one of the NTC's important challenges as the new leaders will have to gain the confidence of the tribe from which Gaddafi comes from, and convince them they will also have a political space within the new Libya.
Tensions between the Qadhadfa and other tribes are also running high and various example of civilians who have been targeted just for having a similar name to the colonel have emerged, which will make the NTC's task even more arduous.
A failure to restore calm and peace in Sirte could certainly have important implications as Libya is far from being a cohesive nation and an insurgent movement in Sirte could be doubly dangerous for the government as it could also inspire other tribes to do the same risking destabilising the all country.
Citizens are also becoming critical of the impact of the war on the country as a whole. While Tripoli has greatly suffered from the NATO bombardments, others cities where the pro-Gaddafi tribes have fought the NTC troops have been left empty and ravaged.
"They (NTC forces) used to start their day with bombing us, and finish it with bombing us... The kids used to hear the shelling like music," another resident also told Reuters.
As tensions between the Libyans and their new transitional government rise, it is becoming increasingly apparent that the NTC does not represent the Libyan people as a whole. Many outside of Tripoli and Benghazi do not know much about their new leaders or their forces and fear being killed or targeted.
After forty years of dictatorship under Gaddafi, it will take a long time for Libya and Libyans to define their new identity outside of the colonel's shadow and start building a more cohesive and less fractioned future.