The jailed son of Colonel Muammar Gaddafi, the former Libyan dictator, has claimed he has been ill-treated by guards at Tripoli's al-Hadba prison.
In August, campaign group Human Rights Watch (HRW) called on authorities to investigate alleged abuse of al-Saadi Gaddafi and other inmates in the Tripoli jail after a nine-minute video appearing to show torture surfaced.
In the footage, officials and guards at al-Hadba seem to be interrogating and ill-treating several detainees, including Gaddafi. Asked about the video and his ill-treatment at the prison, Gaddafi told HRW he had been "terrorised".
Gaddafi, who has been held in solitary confinement and claims to have suffered due process violations, made the allegation on 15 September during his first meeting since his extradition from Niger in March 2014.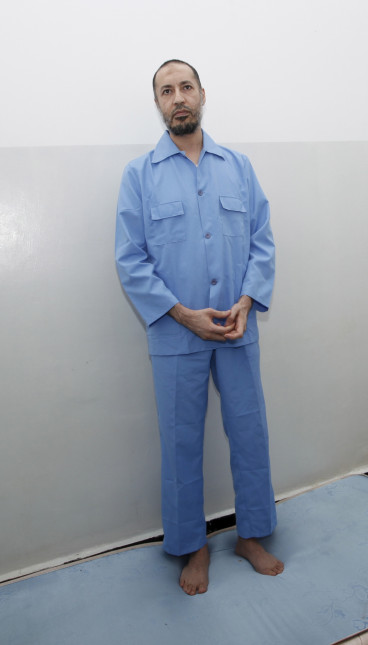 HRW also interviewed former Military Intelligence Chief Abdullah Sanussi, and two former prime ministers, Abuzeid Dorda and al-Baghdadi al-Mahmoudi - all sentenced to death by Tripoli's Court of Assize on 28 July for their alleged roles in suppressing the 2011 revolt in Libya.
Gaddafi is yet to be sentenced.
"The assize court needs to ensure that al-Saadi Gaddafi is granted his full rights," said Sarah Leah Whitson, Middle East and North Africa Director at HRW.
Gaddafi alleges human rights violations
The campaign group described "serious due process violation", including lack of private access to lawyers, inability to call or question witnesses, court authorities' refusal to allow defendants to speak during trial proceedings, and intimidation of their lawyers by armed groups.
Gaddafi said that his defence witnesses were subjected to "huge pressures" and were intimidated about coming forward and speaking on his behalf for fear of reprisals, especially given the absence of a witness protection programme.
One of the former officials, Al-Mahmoudi, also alleged ill-treatment during interrogations.
"The General Prosecutor's Office should also follow through with an investigation of those suspected of ill-treatment of al-Saadi Gaddafi and other detainees at al-Hadba, and make its results public," Human Rights Watch said. "Those responsible for the abuses should be held accountable."
Niger had refused to hand over Gaddafi, who fled south to the West African state in September 2011 as Libyan forces gain the upper hand over his father's forces, because he feared he would face execution in Libya.
Before the revolution, Gaddafi was best known for captaining Libya's national football team, and making appearances for Italian Serie A sides Perugia and Udinese.
Another son of Muammar Gaddafi, Saif al-Islam, was sentenced to death this summer after a Tripoli court found him guilty of war crimes.
He is wanted by the International Criminal Court (ICC) for crimes against humanity related to the 2011 revolt, but Libya has failed to surrender him to The Hague despite an ICC order.