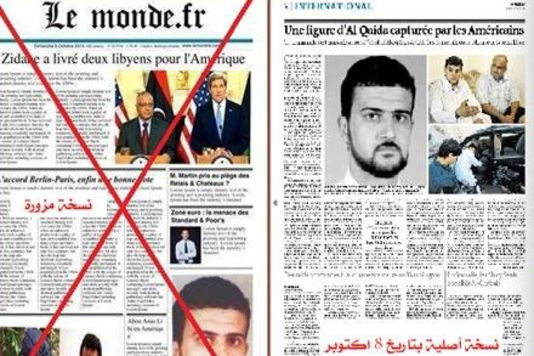 A fake front-page of the French daily Le Monde that has gone viral on Arab social media might have influenced the kidnapping of Libyan prime minister Ali Zeidan by local rebels.
A Libyan militia group claimed that Zeidan, who has been freed hours after being abducted by gunmen from his Tripoli hotel, was "arrested" because he allowed the US military to capture a top al-Qaida leader in Tripoli, Abu Anas al-Libi.
Le Monde's bogus page claimed in the headline that "Zidane (sic) has handed over two Libyans to America". Al-Libi, whose real name is Nazih Abdul Hamed al-Raghie was snatched by a US commando unit as he was returning to his Tripoli house earlier this week. He is believed to be the mastermind behind the 1998 bombings at American embassies in Kenya and Tanzania.
Aware of the hoax, the Libyan government put on its Facebook page a split picture of the fake front-page side by side with a real one.
However, the bogus went viral on Libyan social media, with users posting it on Twitter.
After the abduction of Zeidan, the Libyan Revolutionary Operations Chamber said: "His [Zeidan's] arrest comes after the statement by [US Secretary of State] John Kerry about the capture of Abu Anas al-Libi, after he said the Libyan government was aware of the operation."