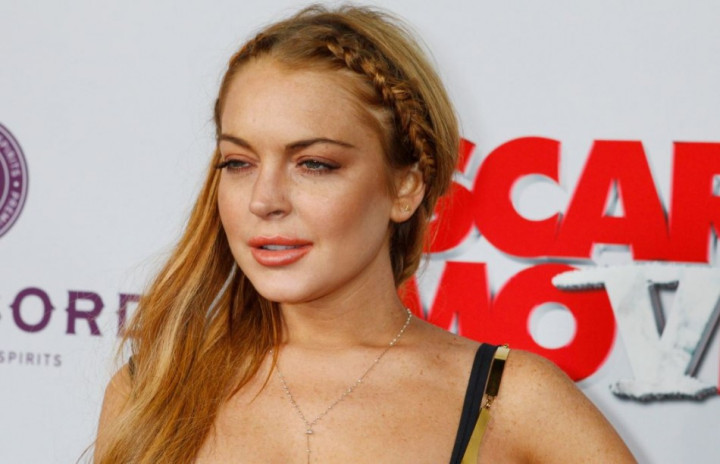 Topless stills of American actress Lindsay Lohan, from her new film The Canyons, have been leaked online. The 27-year-old has only recently been released from court-mandated 90-day stint in rehab but has already found mention in a number of gossip websites, with rumours of a role in Ben Affleck's crime drama Live By Night.
Directed by Paul Schrader, The Canyons released (only in the US) on Friday and features Lohan opposite adult film actor James Deen, who has been in the spotlight ever since the sex tape featuring aspiring model and "Teen Mom" Farrah Abraham. The Canyon features several sexually explicit scenes, some of which were put on the internet via Egotastic.
In one of them, Lohan is seen in the shower. The film also shows the actress participating in a four-way orgy, with three adult film stars. Deen previously revealed Lohan ordered the film crew to strip to their underwear to make her feel comfortable during filming.
"She [Lohan] said, 'When Julia Roberts does topless scenes, she makes the whole crew shoot in their boxers! I want that!' And the whole crew just rolled their eyes and was like, 'We're not doing that. We'll do that for fuckin' Julia Roberts, but not you. Go find another crew; we'll just leave'," he recalled.
"Schrader looked her dead in the eyes and said, 'I'm not making my fucking crew do that, but you know what?' And then he stripped off all his clothes except for his socks, strutted across the room to the monitor, stood there, and just said, 'ACTION!' And the cameras immediately started rolling, Lindsay jumped in the bed, and we nailed it in one 15-minute take," Deen recounted.
Brett Easton Ellis, who wrote the script for the erotic film, detailed his first meeting with the actress.
"I have no idea what Lindsay's leaning toward. All I know is she's very street smart," the Less Than Zero author told Gawker, "She's a very mixed up 20-something, but very knowledgeable about film and composition and lighting and hitting your mark. When she did our first table read, she blew me away. She was late, she was a little scattered, we had nervous small talk, and then she turned it on immediately. I don't see her as lost. I know a lot of 20-somethings and they're all messed up. But when you're out in the public, you're magnified 100%, and I can understand how you'd go a little bit further. But she was ultimately very nice. She was sometimes bossy - I don't know if that's the Adderall - but I genuinely liked her."