A tense, pulsating conclusion to season 4 of hit BBC police drama Line of Duty saw viewers desperately await the reveal of the show's mysterious killer, nicknamed Balaclava Man — but a curveball twist defied all expectations.
It emerged that, rather than one face-covered killer, there are actually a number of Balaclava Men responsible for the crimes, enforced by underworld syndicates.
The long-running story line began at the start of series 4, when sex offender Michael Farmer, played by Scott Reid was charged with a string of previous killings.
However, it transpired that in fact Balaclava Men, plural, killed victims Basminder Kaur and Leonie Collersdale, and abducted Hana Reznikova, before planting the evidence in Farmer's home.
Members of the syndicate continued to terrorise those involved with police unit AC-12, while a Balaclava Man attempted to storm the building to confront lawyer Jimmy Lakewell, only to be shot dead by SIO Ted Hastings (Adrian Dunbar).
Hastings' actions have led to speculation that he may be corrupt, with Line of Duty creator Jed Mercurio revealing Hastings' hasty actions could "come back to haunt him."
He told The Mirror: "If Balaclava Man wasn't shot and was able to give testimony, potentially it could have let the investigation into whatever direction that would be.
"It does leave Hastings open to the accusation that he should have done more to preserve life in that situation and preserve a key witness if balaclava man was a murderer and we presume that.
"It is something Ted had to do in the moment but it may be something that will come back to haunt him," he teased.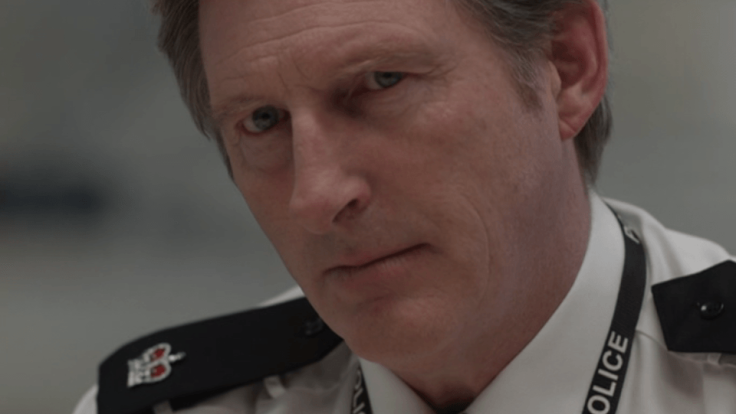 Balaclava Men have remained a persistent theme throughout the show, first attacking DS Steve Arnott (Martin Compston) in series one, forcing him to use a wheelchair, and murdering property developer Jackie Laverty (Gina McKee).
The exploitation of vulnerable women also been something of a modus operandi, typified by teenager Carly Kirk and three sex workers in series 2.
Officers are then blackmailed, leading them to fear they will be incriminated in the murder offences and subsequently help to cover up the crimes.