Fans of Cheryl and Liam Payne have been speculating over the name of the couple's first baby ever since he was born.
Now they seem convinced they have found the name of the newborn listed on Famousbirthdays.com as 'Taylor Payne'.
With the birth date for the baby recorded as March 22 2017, and the birth place as Chelsea and Westminster Hospital, the website reports that the child is the "son of singers Liam Payne from One Direction and Cheryl from Girls Aloud".
The couple have not officially confirmed the baby's name but the posting didn't stop fans getting excited.
"The child was named Taylor," said one fan. But another was more cautious and said: "Even if the baby's name is Taylor, wait until she or Liam announce it."
The discovery was fueled by earlier reports that Liam had previously said that Taylor was one of his favourite baby names.
In an interview with Hits Radio during his One Direction days he said: "I like the name Taylor. Taylor's pretty neutral for a boy or a girl. That's what I'm going to call my first child if I had children."
Cheryl also had a name in mind for a baby boy, telling a magazine: "Of course I've thought about baby names a million times. I like Alfie for a little boy."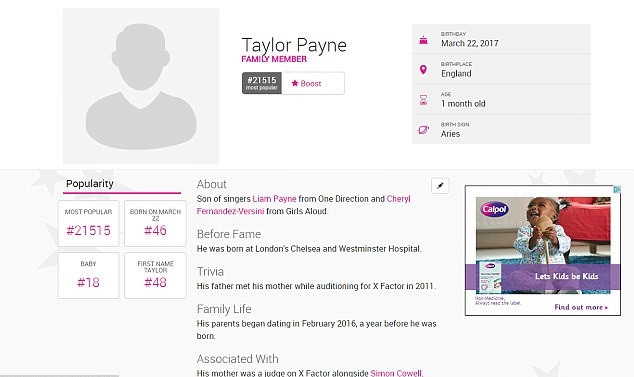 She announced the news of the baby's birth on Instagram with a picture of Liam cradling the baby in his arms:
Liam shared the same picture as he wrote: "My close friends and family know there are very few times when I'm left speechless...wow!"