Group E: Nordsjaelland 1-1 Juventus- FT ; Shakhtar Donetsk 2-1 Chelsea- FT

Group F: BATE Borisov 0-3 Valencia- FT, Lille 0-1 Bayern Munich- FT

Group G: Spartak Moscow 2-1 Benfica- FT; Barcelona 2-1 Celtic- FT

Group H: Galatasaray 1-1 CFR Cluj- FT; Manchester United 3-2 Sporting Braga- FT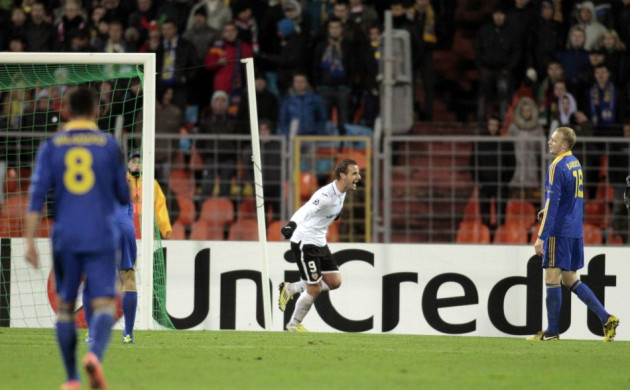 21:41: So it's full-time in all the games across Europe, and what an evening it has been. The champions Chelsea beaten in Donetsk, Celtic shocked late by Barcelona and Manchester United make it hard for themselves before overcoming Braga. Bayern Munich and Valencia meanwhile take charge of Group F. Join us again tomorrow for move live coverage of the Champions League, until then, goodbye.
21:39: So cruel for Celtic with the final move of the game. Adriano gets the cross in, and Jordi Alba touches home at the back post. The final whistle goes and it's so close, but yet so far for Neil Lennon's side, who looks deflated by the late winner for the Catalans.
Goal: Barcelona 2-1 Celtic (Jordi Alba)
21:32: Chelsea have one back but is it too little, too late? Ivanovic's cross is left by Hazard and when the ball comes through to Oscar he make no mistake to half the deficit.
Goal: Shakhtar Donetsk 2-1 Chelsea (Oscar)
Goal: Nordsjaelland 1-1 Juventus (Mirko Vucinic)
Goal: Galatasaray 1-1 CFR Cluj (Burak Yilmaz)
21:22: Celtic hanging on now as we enter the final 10 minutes across Europe. Sanchez's effort is saved by the legs of Forster before Messi's header is clawed away.
21:20: Comeback complete as Javier Hernandez heads United ahead for the first time against Braga. A terrific cross from Tom Cleverley is on the postage stamp for the little Mexican, who powers a header past Beto. Looking like three from three for Sir Alex Ferguson's side.
Goal: Manchester United 3-2 Sporting Braga (Javier Hernandez)
21:16: United almost go ahead as Hernandex does brilliantly to get away from two Braga challenges and finding Nani, whose shot is beaten away for a corner. The home side well ontop now having drawn level. At the Nou Camp, Fraser Forster, who you always sensed had to have a stormer if Celtic were to get anything tonight, has kept out Lionel Messi's header.
Goal: BATE Borisov 0-3 Valencia (Roberto Saldado)
21:07: Not been a game of brilliant defending at Old Trafford but this time it's the home side who capitalise. Jonny Evans swings at Michael Carrick's flick on, but it's with his second effort from six yards. where he finds the net to level the scores.
Goal: Manchester United 2-2 Sporting Braga (Jonny Evans)
Goal: BATE Borisov 0-2 Valencia (Roberto Soldado)
20:55: Chelsea shoot themselves right in the foot at the start of the second half as Eden Hazard is dispossessed on the halfway line. Luis Adriano strides forward and finds Fernandinho in the right-hand channel of the penalty area and he shoots low beyond Petr Cech to double the hosts' lead.
Goal: Shakhtar Donetsk 2-0 Chelsea (Fernandinho)

Goal: Nordsjaelland 1-0 Juventus (Beckmann)
20:51: Change for Manchester United at half time, with Nani replacing Shinji Kagawa, who was limping for long periods of the first half. Meanwhile, Chelsea should be level as Mata smashes over from the edge of the box after being played in by Hazard.
20:48: Underway in the second halfs in the 19:45 kick offs around Europe.
20:42: Well I posed the question whether tonight would be among the most thrilling we've seen in the Champions League in recent year, and we haven't been disappointed. Celtic have defended manfully and are level at 1-1 at the Nou Camp against Barcelona. Manchester United are 2-1 down at home to Sporting Braga after two smart finishes from from Alan. Hernandez has given the 2008 winners hope however. And finally the holders are behind against the unbeatable Shakhtar in Donetsk.
Elsewhere, there are other shocks on the cards with CFR Cluj one-up at Galatasaray and Champions League debutants Nordsjaelland level with Serie A champions Juventus. Second halfs ready to get underway in around 5-10 minutes.
Goal: BATE Borisov 0-1 Valencia (Roberto Soldado)
Celtic's are pegged back in the twilight of the first half and you can't deny it hasn't been deserved. Iniesta is found by Messi, and the Spanish midfielder exchanges passes with Xavi before sweeping the ball beyond Fraser Forster.
Goal: Barcelona 1-1 Celtic (Andres Iniesta)
20:29: Petr Cech forced into more action in Ukraine. First, he tips over Henrik Mkhitaryan's drive, before the subsequent corner sees him beat away Yaroslav Rakitskiy as Chelsea make a hash of the clearance. Keeping the holders in the game so far.
20:23: As you'd expect, possession is coming at the premium for Celtic in Barcelona, but the SPL champions are holding firm at the back. Meanwhile, in the other game in Manchester United's group, Felipe Melo has missed a penalty for Galatasaray against 10-man CFR Cluj, who remain one-goal ahead.
21:21: Fernando Torres and Willian both go close in Donetsk as both sides go looking for a secod goal in the match. In Manchester, United have the ball in the net but Kagawa is offside as he is fed by Van Persie. Replays suggest the referee's assistant got it wrong before Hernandex netted.
20:16: Alan almost completes a memorable hat-trick at Old Trafford with a dipping volley which he caught beautifully but bounced wide of David de Gea's goal.
Red Card: Aguirregaray (CFR Cluj)
20:12: United back in it as Shinji Kagawa turns in the bos and crosses for Javier Hernandez to head, unmarked, via a touch from the goalkeeper, into the net. Game on.
Goal: Manchester United 1-2 Sporting Braga (Javier Hernandez)
20:09: Well, well, well. Manchester United's Champions League campaign is self-destructing as Braga get a second inside the first 20 minutes. Eder drives past Carrick and rosses for Alan who slides past de Gea.
Goal: Lille 0-1 Bayern Munich (Thomas Muller)
Goal: Manchester United 0-2 Sporting Braga (Alan)
Goal: Galatasaray 0-1 CFR Cluj (Nounkeu)
Well as if it wasn't a big enough surprise to see the two English sides trailing, the remaining British side are ahead, as Celtic take the lead at Barcelona. Mulgrew's free-kick find Samaras unmarked and his header hits Javier Mascherano and drops into the net.
Goal: Barcelona 0-1 Celtic (Giorgos Samaras)
20:03: Lots of talk in the lead up to the game about Willian having previously rejected a move to Chelsea, and The Blues almost feel the immediate affects as the winger cuts inside and shoots over the top of Cech. Meanwhile, Frank Lampard's record 100th European appearance lasts just 17 minutes as he is replaced by Eden Hazard.
19:56: Well Chelsea's players will have been warned to keep an eye on Shakhtar's Brazilian contingent, but I'm not sure Teixeira would have been too high on the list with the likes of Fabiano and Willian around. Meanwhile, in Manchester, the home side concede the first goal in a game for the eighth time in 12 matches this season, a defence without either Rio Ferdinand or the injured Nemanja Vidic. Goals few and far between elsewhere around Europe however, with Celtic still holding out at the Nou Camp.
19:51: Two goals in as many minutes and both of the English sides are behind. Firstly at Old Trafford Alan gets free in the United area from a superb Viana cross and he buries a header beyond De Gea. In Ukraine meanwhile, some scrappy Chelse defending sees the ball bounce of John Terry and fall to Teixeira, and he slides the ball beyond Cech.
Goal: Shakhtar Donetsk 1-0 Chelsea (Alex Teixeira)
Goal: Manchester United 0-1 Sporting Braga (Alan)
19:45: Worth noting that as the players come out for the pre-match pleasantries, this week's matches in the Champions League and Europa League will be used to spread the word concerning Uefa's anti-racism stance in the FARE Action week. Captains of all teams will wear special armbands for the matches, while mascots will bare anti-racism t-shirts to help spread awareness. A poignant time and message given the events in Serbia last week. We're underway across Europe.
19:41: Couple of bits of team news from the three British sides in European tonight. Celtic bring back Scott Brown into midfield alongside Joe Ledley, while Georgios Samaras partners Gary Hooper in attack. For their Catalan opponents, Marc Bartra and Javier Macherano play in the centre of a makeshift defence, while Alexis Sanchez, Lionel Messi and Pedro lead the attack.
For Chelsea, John Terry as expected captains the side, with Frank Lampard, who becomes the first Blues player to reach 100 European appearances for the club, starts in midfield. Eden Hazard misses out. Donetsk have filled their starting eleven with a deluge of attacking options, including Luis Adriano, Willian and Henrikh Mkhitaryan all included.
Meanwhile at Old Trafford, Rio Ferdinand is left on the bench, as Michael Carrick slots into the back four. Javier Hernandex replaces Danny Welbeck and Alexander Buttner plays instead of Patrice Evra. Braga have former Newcastle United winger Hugo Viana in their ranks.
Close to kick-out around Europe now. Strap yourselves in.
19:31: Those eagle eyed among you will notice we already have a result on Champions League matchday three, with Spartak Moscow putting themselves back in contention for qualification from Group G with a 2-1 win over Benfica, who remain win-less. Rafael Carioca put the hosts ahead before Lima levelled for the Portuguese side. But Jardel's own goal with two minutes of the first half remaining turned out to be the winner despite ample second half pressure from Jorge Jesus' side. The result is a big boost to Celtic's chances of emerging from the group.
19:23: If the first two matchdays are anything to go by, then matchday three in the Champions League group stage is likely to be as thrilling a week as we've seen in the Champions League in recent years as we get towards the sharp end of the opening group phase.
The three British clubs go into their respective ties with contrast emotions. Celtic travel to Barcelona off the back of their first ever away win in the Champions League but face a massive task to add to their four points so far. Chelsea face a Shakhtar side who are unbeaten in their last 33 matches in all competitions, and their last 14 at home in the Champions League, while Manchester United face Group G whipping boys Sporting Braga hoping to put one foot in the knock-out phase.
I'm here to guide you through another evening of Champions League football, keeping you abreast of all the scores across Europe, with particular focus on the fortunes on the British trio. You needn't move a muscle.