Manchester City 0-1 Chelsea
(Branislav Ivanovic, 30)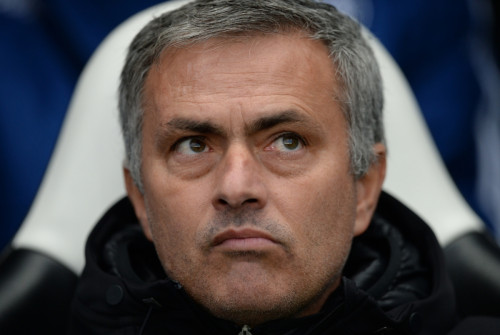 9:55: And that's it! What a win for Chelsea who now move level on points with City after an excellent performance and a tactical master class from Jose Mourinho.
FULL TIME
Manchester City 0-1 Chelsea
(Branislav Ivanovic, 30)
9:53: Chelsea defending the subsequent corners excellently, job done as Nastasic can't connect with at the far post.
9:52: What an effort from Jovetic! The forward opens his body up and curls a brilliant effort on goal that Cech follows all the way and palms out for a corner.
9:51: The hard working Willian comes off for Mikel, who is unaffected by the tension around the Etihad as he giggles like a school girl with the fourth official prior to entering the fray.
9:50: Three minutes of time added on.
9:48: Nastasic is nearly at fault again as his short header is seized upon by Oscar who immediately looks for Hazard, but Kompany reacts quickly to step across and intercept.
9:47: Chelsea hoof it clear and Oscar does well to shift Nastasic out of the way on the half way line but the City defender hauls the Brazilian down on his way. There's a strong case for him being the last man and a possible red card, but Mike Dean reaches for another yellow.
9:45: City pile on the pressure. Navas tries to be a bit too intricate on the by line but wins the corner.
9:42: Nope, it's Samuel Eto'o who calls it a night, suggesting Hazard, who has been sensational tonight, could move up front.
9:41: Oscar preparing to come on, Ramires off maybe?
9:38: Toure shapes to shoot from 30 yards but plays a disguised pass for Silva but it's cut out for a corner. City fail to make it count with an unsuccessful short corner and it's back o the drawing board for the time being.
9:35: Another great chance for City. Dzeko pings a first time ball out to Kolarov who sweeps a ball into the box from the left but under pressure from Azpilicueta, Silva directs his shot wide.
9:33: Silva takes the free kick and draws an excellent save from Cech! The Chelsea keeper is up to bat the ball away from the top corner and prevent the equaliser. The resulting corner swings out of play however and Chelsea can breathe again.
9:31: It's a Man City free kick after Willian is harshly penalised on the edge of the box. The big Ivorian completed a nice Marseille turn to evade the Brazilian but clips his heels en route,. Both men go down but it's City who win the decision.
9:29: End to end stuff at the minute. Jovetic, who is growing into the game tests Petr Cech from 20 yards but his effort is saved.
9:27: City march up the other end as Silva beautifully finds Zabakleta who finds Dzeko who should score, but miss hits his effort from five yards out. Really shoudl have done better.
9:24: Chelsea hit the post again! Ramires wins the corner after a lung bursting run to get on the end of a Luiz pass. The first one is partially cleared by Zabaleta with Cahill lurking, but the England international meets the second with an excellent header from 12 yards out that cracks the post with Hart rooted to the spot.
9:20: Jovetic is struggling to assert himself on this game straight away and has been on the receiving end of one or two heavy challenges. Matic picks Eto'o out with a brilliant up field pass and the Cameroonian looks to pick out the onrushing Ivanovic, but Kompany reads it perfectly and sides in to intercept.
9:17: Luiz takes the free kick and it's quite a bit better than his effort from the first half, but that isn't saying much. His shot his the wall and Chelsea get a throw in.
9:15: Chelsea win a free kick 25 yards from goal after Kompany upends Eto'o. Jovetic comes on for Negredo.
9:13: Matic hits the post! The Serbian picks up the ball 25 yards from goal and hits a wonderfully driven effort that cracks off the right hand post. Another lucky break for City.
9:12: City simply cannot deal with Eden Hazard at the moment. The Belgian is striking fear into the hearts of the City defence every time he picks up the ball and has so far created something at each time of asking.
9:08: Hazard weaves his way past three City players before playing the ball out wide to the overlapping Ivanovic but his cross is pushed out back to Hazard who pulls off a beautiful flick into the path of no one in particular. City immediately surrender possession again and Luiz's low cross across goal finds Willian, who can't quite sort his feet out in time to get a threatening shot off in time.
9:06: Navas hangs a high cross into the box that Dzeko leaps to meet, but under pressure from Cahill his header flies harmlessly wide. Jovetic warming up for City.
9:03: And we are back underway at the Etihad.
8:52: Chelsea hold a thoroughly deserved lead at half time. Mourinho's trio of Matic, Luiz, and Ramires have done excellently to nullify the influence of Toure and launch incisive counter attacks at will. Demichelis' contribution has often been to the detriment to his side who are really missing the presence of Fernandinho. Mourinho's nailing this one at the minute. Ivanovic's brilliant opener has Chelsea leading.
Having scored after 31 mins, here's Ivanovic celebrating his goal… #CFC pic.twitter.com/Tj9g0F1p5X

— Chelsea FC (@chelseafc) February 3, 2014
HALF TIME
Manchester 0-1 Chelsea (Branislav Ivanovic, 30)
8:46: Two minutes of time added on and Chelsea could quite easily be three nil up at this point.
8;45: Chelsea hit the frame of the goal! Demichelis loses a battle in midfield with Luiz and the Brazilian finds Hazard on the left flank. The Belgian jinks his way into the box and fires a low ball across goal but with no one waiting in the centre, Eto'o cuts in from the right and fires a terrific effort that bounces off the bar.
8:43: Kolarov now enters the referee's book for chopping down Luiz on the right flank.
8:41: Edin Dzeko expertly controls the ball with his face after a cross unexpectedly bounced up in front of him, but his effort is struck over the bar.
8:40: Nemanja Matic also receives a yellow card.
8:37: Chelsea are flying after their opener. Eto'o gets in behind the City defence but rather than opting to cut the ball back his effort on goal is wasted. No matter, as City return the ball to the visiting side at the first time of asking, allowing Hazard to bear down on goal. His low effort is hit towards the near post but Hart reads well to make the save. Demichelis was booked prior to that for another cynical one on the Belgian.
8:33: Moments later the goal scorer picks up a yellow card for an ugly challenge on David Silva.
8:32: Chelsea have the lead! After some intricate work from Hazard to get the ball into the boz Ramires shapes to shoot but his effort is half cleared into the path of Ivanovic just outside the right hand corner of the box. He wallops a vicious effort on the half volley straight into the bottom corner past the despairing Hart.
Goal! Manchester City 0-1 Chelsea (Branislav Ivanovic, 30)
8:28: What a chance for Chelsea! The Blues launch a blistering counter attack and it's four on one in Chelsea's favour. Willian leads the attack and plays the ball is played across to Ramires in the box but his curling effort is read brilliantly by Hart who makes the save. The ball rebounds to Willian who was quickest to react but with the ball looping in the air he opts for a spectacular over head kick that goes horribly wrong.
8:25: Demichelis makes a terrific (!) interception to break up and play and Silva picks up the pieces before playing a neat ball out to Kolaraov but his cross his stabbed away by Cahill.
8:22: Hazard dances past Demichelis and is hauled down by the burly Argentine for his trouble. Luiz takes responsibility for the free kick 30 yards out but proceeds to lump it hilariously clear of the goal and perhaps the city of Manchester.
8:19: Best chance for the game for Man City. Toure battles his way into the box and perhaps could have gone down after his ankle is clipped by Azpilicueta. Instead he cuts the ball back to Silva who diversts his effort the wrong side of the post from six yards out.
8:16: Navas twists and turns on the right flank before teeing up Yaya Toure just outside the atrea. His first time effort is a good one, but it's just a bit too central as it sails just over the bar.
8:14: Samuel Eto'o is flagged offside after (eventually) being played through by Eden Hazard. City respond through Toure who elegantly evades Matic in the middle of the park before embarking on one of his trademark runs through the middle. His ball finds Kolarov near the byline but Ivanovic makes an excellent challenge and retains possession to boot.
8:11: Kolarov finds space again on the left and flashes an excellent cross across the box, Terry chooses to leave it and luckily for the Blues Yaya Toure can't stretch his legs quite enough to knock the ball into the net. It's been a great start to this game, both sides have shown impetus in attack and have had their nervy moments at the back. Perfect combination, if you're a neutral that is.
8:09: Willian leads a counter attack after Zabaleta loses possession up field but looks to have over hit it with Kompany ready to overtake him and clean up. He would have done, if it hadn't been for Nastasic sliding across him and momentarily causing a bit of panic in the City box. The City captain berates his young accomplice, and probably rightfully so.
8:07: Negredo barges past two Chelsea defenders inside the left of the box and fires across goal from a tight angle but it's well over Cech's bar. Good, open start to this.
8:04: Chelsea respond by launching a tentative attack of their own and a pass inside the box finds Samuel Eto'o in a surprising amount of space. Willian approaches to provide support but the ball is eventually forced cleared.
8:02: 15 seconds in and Petr Cech comes racing out of goal to collect an effort that has bounced straight off Jesus Navas from an attempted Azpiliceuta clearance when Cahill looked the favourite to get there. It's eventually cleaned up though and Cech is spared the blushes Joe Hart suffered last time these two met.
8:01: And we're OFF! Negredo and Dzeko LITERALLY get the ball rolling for us.
7:52: Not long to go now as both sides line up in the tunnel.
7:42: It was Joe Hart and Matija Nastastic who got their wires crossed to allow Fernando Torres to score a last minute winner last time these two sides met.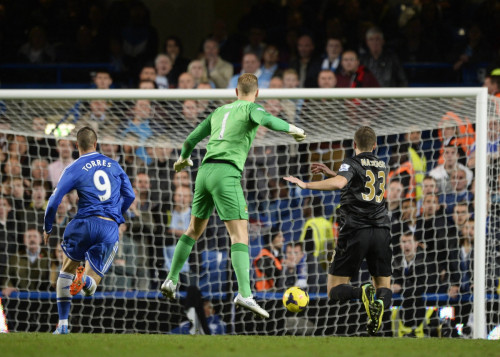 It was one of a series of errors that forced Manuel Pellegrini to take the England international out of the firing line.
7:34: Hull City and Crystal Palace are the only sides to have contained Manchester City until half time at the Etihad Stadium this season.
7:30: Mourinho won't be parking the bus, apparently.
"The team I have selected is a team to defend when they have the ball and to attack when we have the ball.

"They are a strong team. Our game plan is to be strong defensively but to be a threat to the opponent. We want to win but we know that our opponent will have a lot of the ball and when they have it they are the most dangerous team in the country." [via Sky Sports.]
7:25: Fernandinho misses tonight's game due to a muscle strain.
.@fernaoficial misses-out tonight due to a muscle problem confirmed by Manuel in his pre-match interview. #cityvchelsea #mcfc

— Manchester City FC (@MCFC) February 3, 2014
7:23: Doesn't bode well for Jack Rodwell that Manuel Pellegrini has looked to centre half Demichelis to replace Fernandinho in midfield. Whatever Jose Mourinho's intention is tonight, the Brazilian's absence is a huge boost.
7:19: Mohamed Salah takes a place on the Chelsea bench and will make his Blues debut if introduced later on.
7:15: Nemanja Matic starts in midfield alongside Ramires and David Luiz in a powerful bank of three in front of the defence. Samuel Eto'o starts up front with Eden Hazard and Willian dropping in behind him.
7:13: Big blow for Manchester City as their formidable midfield partnership is broken up with Fernandinho absent. Martin Demechelis replaces him as an anchor in midfield. Alvaro Negredo comes in for the injured Sergio Aguero.
TEAM NEWS
Manchester City: Hart, Zabaleta, Kompany (c), Nastasic, Kolarov, Navas, Demichelis, Toure, Silva, Dzeko, Negredo
Subs: Pantilimon, Boyata, Clichy, Milner, Rodwell, Lopes, Jovetic
Chelsea: Cech, Ivanovic, Terry, Cahill, Azpilicueta, Luiz, Ramires, Hazard, Matic, Willian, Eto'o
Subs: Cole, Mikel, Lampard, Oscar, Salah, Ba
7:09: In another case of cheeky hypocrisy, Mourinho took the chance to take aim at City's free spending transfer policy, insisting it will be "impossible" for clubs to compete against Manuel Pellegrini's side unless Financial Fair Play is rigorously enforced. 10 years ago the Chelsea boss was singing a very different tune however.
7:05: A win for Manuel Pellegrini's side will lift them back to the top of the Premier League, a point clear of Arsenal and six ahead of Chelsea. However, while it may seem like a long, long time ago, the Blues were the last team to beat City courtesy of a 2-1 win at Stamford Bridge when Fernando Torres capitalised on a calamitous mix up between Joe Hart and Matija Nastasic.
7:03: Jose Mourinho's criticism of West Ham's '19th century football' has elicited much intrigue in to what sort of game the Special One will deploy against a rampant Manchester City, who have merrily hammered goals past their rivals all season including four against Manchester United, six past Arsenal and 11 against Tottenham over games. That means we can expect an open, free flowing bonanza from the Blues at the Etihad Stadium tonight, right?
7:00: Good evening and welcome to IB Times UK's LIVE coverage of tonight's Premier League clash between Manchester City and Chelsea.