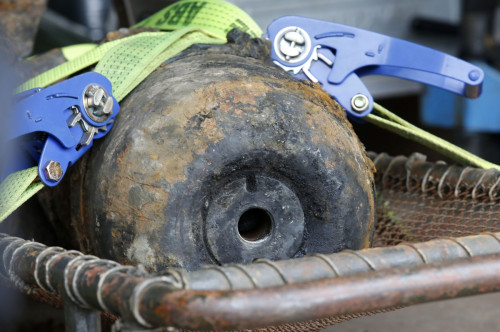 An unexploded 2,000lb (900kg) wartime bomb uncovered by workers on a hotel construction site in Hong Kong has sparked the evacuation of more than 2,000 people.
The AN-M66 device was the biggest-ever World War II bomb found in Hong Kong and was packed with about 990 pounds of explosives.
Builders at a Happy Valley hotel found the device lodged in the ground but was too big to be moved without expert guidance.
"We dare not risk moving the bomb. It could cause severe damage within a radius of 10 metres, and buildings might collapse instantly. We also did not want to carry out a controlled explosion for safety reasons," senior bomb disposal officer Jimmy Yuen told reporters.
A bomb disposal unit was called in to detonate the device on site. The entire process took 15 hours.
The length of the operation was due to "technical problems when drilling holes into the bomb and because of the large amount of explosives inside it", said Yuen.
"Because the explosive inside was very sensitive, we had to cut the shell in a low-temperature environment, so the process took longer than expected," he told reporters.
The squad had to dig holes and put large sandbags around the scene to protect nearby offices, hotels and residential homes from potential damage.
The explosives in the bomb had to be burnt for two hours and 20 minutes, leaving what Yeun described as a "metallic bomb shell".
The police eventually took away the shell and cleaned it before deciding where to dump it.
The bomb was dropped by the US airforce during World War II, at a time when Hong Kong was occupied by Japan.
A US bomber flying from Guangzhou in China had fired the bomb, but it landed on a soft ground, failing to detonate, said Yuen.
Unexploded bombs from World War II have frequently been discovered in Hong Kong.
Some of the finds include a British shell and a cache of 588 granades and bombs, many of them carrying live explosives.