Rodgers Praises Brazilian Star's Progress As Improvement Continues
Brendan Rodgers has revealed he is delighted with Lucas Leiva's progress in his race to return to full match fitness, with the midfielder hoping to fully recover from his injury woes and get back to his best.
Leiva has made important contributions to the Reds' lineup in recent weeks, giving hope to supporters that he may finally have overcome the knee and thigh problems that put him out of action for nearly a year.
And Rodgers believes that the Brazilian is showing the potential to be the force he was before his initial injury.
"I've been delighted with Lucas," Rodgers told the Liverpool Echo. "We were very wary of the fact he had had a serious knee injury last season, and then obviously another problem on top of that this season.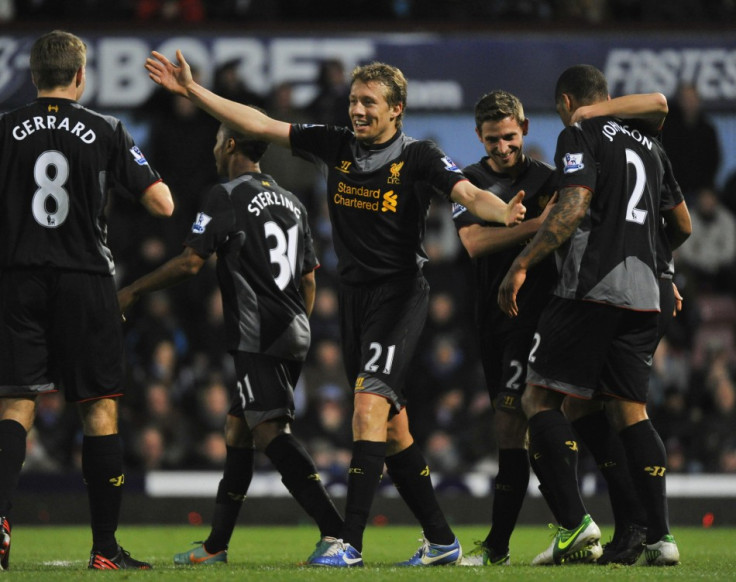 "It was important for the team to get him back, but it was important for him that we did so at the right pace and that we paced his recovery right.
"It is a big credit to him as a professional. He has worked so hard, and his attitude and his application has been first class. He deserves every praise for the way he has conducted himself."
Rodgers hopes Leiva will be ready to play again next season, and recapture the form he showed in 2011/12, when he was among Liverpool's best players.
He explained: "I still believe, having worked with these kind of injuries in the past, that it won't be until the summer, and beyond even, that we see him back at full level.
"It will be great for him to get a full pre-season with the group under his belt, but you can see in recent games that his mobility and the speed of his game is getting better and better all the time.
"As I say, it is a credit to him. He's been fantastic."
© Copyright IBTimes 2023. All rights reserved.