South American Star Hits Out at Diving Claims
Liverpool striker Luis Suarez has insisted, once again, he is not a diver. The Uruguayan forward, for all his undoubted brilliance, has earned a reputation as someone ready to simulate fouls to win free kicks and penalties.
"I insist I don't dive in the penalty area. This is my career and the bad reputation created around me is unjust. If you analyse the statistics I am one of the forwards who receives the most fouls and free kicks," the 25-year-old South American explained, ahead of the high-profile league clash against Chelsea. "There always seems to be controversy surrounding me but I accept the referee's decisions - they are only human. I accept the criticism against me but many people attack me without reason. That doesn't please me but I try to do my best day by day."
Allegations of diving aside (also made by Stoke City manager Tony Pulis), Suarez's return of 10 goals in 15 appearances (in all competitions) this season reinforces the Reds' reliance on the player his manager has compared with Barcelona superstar Lionel Messi.
Suarez also spoke about his professional rivalry with Spain international Fernando Torres. The 28-year-old ex-Atletico Madrid striker left Anfield for Stamford Bridge in the winter of 2011 but has since struggled to reproduce his deadly form. Suarez arrived in Liverpool hours after Torres' sale, for a reported £22.7m, and the striker has prospered since then... controversies aside.
"Torres is highly regarded by Liverpool fans but I prefer not to draw comparisons between us because we are a different type of forward. I am not envious of anything he did for Liverpool," Suarez explained, adding, "Maybe we are similar in the way we battle against defenders and our passion is the same, but technically we are different. My mission is to play and to score goals for Liverpool."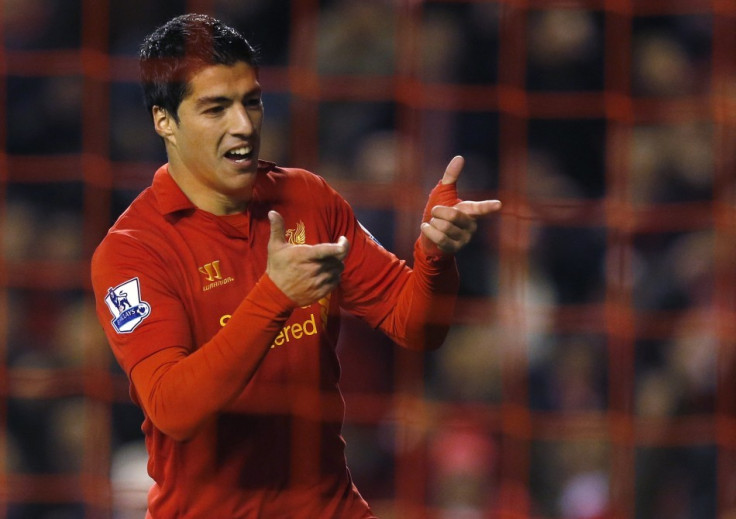 As for his future, if the Reds' coach, Rodgers, has his way, Suarez will remain a Liverpool player for a long time. The former Swansea City coach has emphasised, more than once this season, the importance of keeping the Uruguayan at the club.
"... We now have one of the best strikers in the world with Luis. We have to ensure we keep the best players like him. Of course, it is hard to compete with the money the big clubs have to spend on the big players. But we can't just give up because we are not in the same financial league as other clubs. It is up to us to find a way of dealing with that," the Northern Irishman explained, adding, "It's a monumental task as the biggest clubs have the big money to buy the big players. But it's up to us as a club to add players that can help support Luis and move us on. I believe if you look at our starting 11, if we can add three players or so to the group, we will be very, very strong."
© Copyright IBTimes 2023. All rights reserved.