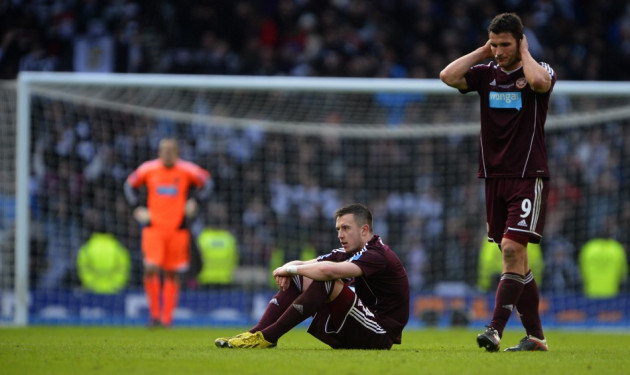 Danny Wilson will be allowed to remain at Hearts after the club received confirmation that his transfer from Liverpool would not breach the Scottish club's registration embargo.
The 21 year old enjoyed a successful loan spell at the club last season and agreed a three-year deal at Tynecastle last month. However, after Hearts went into administration it was believed that the move would be stopped and that he would return to Liverpool.
However, because the Scotland international was still officially on loan until 30 June, the ban imposed after the club entered administration does not affect Wilson and only applies to new players.
"The player's existing SPFL registration is automatically extended and is not affected by the embargo on new SPFL player registrations," confirmed the SPFL through a statement.
While Hearts boss Gary Locke revealed his relief that the deal could be confirmed, saying: "I'm delighted that he's signed a deal.
"He was a signed Hearts player at the time we went into administration so I think that was the reason we were able to sign Danny.
"I think it's important that we try and be as competitive as we can on the pitch and we'll certainly have a better chance with players like Danny in the team. He's a fantastic player, a full international."
Wilson is believed to have a taken a pay cut of around 50% on the contract he originally signed with the club as they attempt to find a new buyer.
The Scot had struggled to make an impression at Liverpool after signing from Rangers back in the summer of 2010, despite Brendan Rodgers being unhappy with his options in defence.
The Liverpool boss limited Martin Skrtel's opportunities in the second half of the season and was unwilling to put in Uruguayan centre-back Sebastian Coates.
With Jamie Carragher having now left the club after retiring at the end of last season there is a need for Rodgers to find placements in the summer. Kolo Toure has officially become a Liverpool player today after leaving Manchester City, but there is a feeling that at least one more defender will arrive.
Paris Saint-Germain's Mamadou Sakho admitted that he was "flattered" to be linked with a move to Anfield but the Liverpool Echo does not believe that he is of interest to the club.
Swansea captain Ashley Williams and Schalke centre-back Kyriakos Papadopoulos were both linked with a move but it seems the Red's interest in these players has faded.
Liverpool are still keen to recruit Sporting Lisbon's Tiago Ilori but that deal has been complicated and officials are still in negotiations with the Portuguese club.
Rodgers would have hoped to have already tied up a deal as he is keen to bring players to the club early in the transfer window so that they are with the club throughout pre-season.