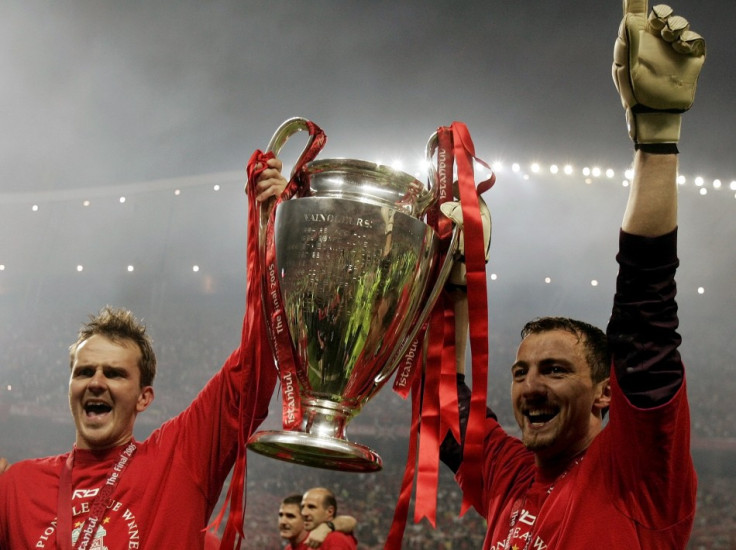 Former Liverpool midfielder Dietmar Hamann has recalled the moment Rafa Benitez summoned him from the bench when the club trailed 3-0 to AC Milan in the 2005 Champions League.
The famous night in Istanbul will go down in Liverpool folklore as one of the greatest moments in the Merseyside club's rich history, when a Steven Gerrard inspired comeback overturned a three goal deficit against the might of AC Milan. They eventually won the match on penalties and the evening's events are still a vivid memory for Hamann.
The aforementioned Liverpool legend initially started the match from the bench but he was introduced at half-time in place of fullback Steve Finnan. Despite suffering from a broken toe sustained during the match, the holding midfielder was crucial in anchoring Liverpool's memorable fight back.
When Rafa Benitez decided to make the change, the Liverpool midfielder recalls being slightly reluctant given the games seemingly dire circumstances, but he admits "everything went our way".
"It was not the most pleasant time to come on but then again I did expect to start that night and I didn't." The Liverpool hero told Goals on Sunday. "But you can't be too downbeat about it; I was lucky enough to get one chance in a Champions League final, most players don't get a chance.
"You go on and you hope things will get better and we had all the breaks in the second half; everything went our (Liverpool's) way and you need that against teams like AC Milan."
The ex-German international opened Liverpool's scoring in the penalty shootout after AC Milan fullback Serginho had missed the opening spot kick.
Hamann can still recall the moment as if it were yesterday, recalling Liverpool goalkeeper Jerzy Dudek's late heroics to cap off one of the most extraordinary nights in the competition's history.
"It was made a bit easier because Serginho missed the first penalty so if I missed we were still level," The Liverpool legend told Sky Sports. "That was a bit of a help. It was a big moment and it took us ahead for the first time that night.
"(Jerzy) Dudek made two penalty saves after that - although how that (Andriy) Shevchenko penalty was not retaken I will never know. He must have been four or five yards off his line when he saved it!
"I think (LIverpool captain) Steven Gerrard was very relieved because he would have had to take the next one."
Hamann joined Liverpool from Newcastle United in 1999 after Gerard Houllier paid £8 million for the towering German international. The hugely talented midfielder subsequently established himself as a mainstay in the club's successes over the next seven years, amassing 283 appearances for Liverpool prior to his Anfield exit in June 2006.