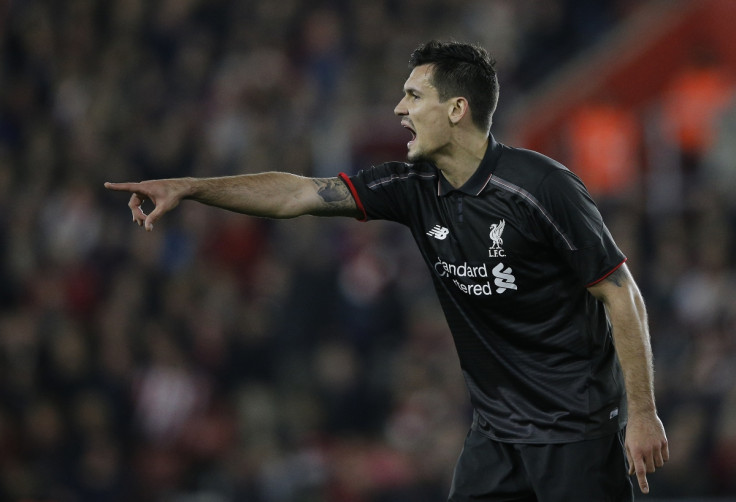 Liverpool first-team coach Pepijn Lijnders has claimed that Dejan Lovren and Joe Allen went off in the first half in their 2-2 draw to Sunderland at Anfield due to cramps and fatigue, respectively. Jurgen Klopp missed the Reds' clash against the Black Cats as he was in hospital after suffering from suspected appendicitis on 6 February.
In the absence of the former Borussia Dortmund manager, Lijnders along with Zeljko Buvac and Peter Krawietz were on the touchline. Lovren recently returned from a hamstring injury and the Croatian international felt cramps in the same position, which resulted in him being replaced by Kolo Toure in the 12th minute.
Prior to the Sunderland tie, Allen was in action in the Merseyside club's previous three fixtures, which were played in a space of less than 10 days. The former Swansea midfielder started against Sam Allardyce's side, but was forced to come off before the break. Lijnders suggests the Welshman will undergo further scans to find out the extent of the damage.
"Lovren felt cramp two or three times in the same position. [It was] very light so it was just a precaution to come off because it was in the same spot," Lijnders explained, as quoted by Liverpool's official website.
"Allen was fatigued just before half-time and the scan has to show what comes out of that tomorrow." Liverpool were leading the game 2-0 until the final quarter of the match. Roberto Firmino gave the Anfield outfit a lead in the second half, before Adam Lallana doubled it in the 70th minute.
Adam Johnson opened the scoring for the visitors from a free-kick in the 82nd minute and it was Jermain Defoe's striker in the final minutes of the match that forced Liverpool to settle for a draw. Lijnders has pointed his side dropped off "too much" in the final 10 minutes, which allowed Sunderland to score twice and walk away from Anfield with a point.
"Normally, if you score early then the game gets easier. In the last 10 minutes we dropped off too much and let them play longer balls," he said.
"With those longer balls, they are closer to our goal and that's why the free-kick [for Sunderland's first goal] is in that position instead of 20 yards higher up the pitch.
"We felt that we were in control of the game and you see that one moment changes everything. There are still eight to 10 minutes where you have to be calm and play, keep moving the ball into the final third, so when you lose it you can counter-press and stay higher up the pitch."