Wesley Sneijder is believed to be interested in a move to Liverpool after revealing that he will wait until the very end of the transfer window before deciding where to go.
Inter Milan are keen to get the midfielder off their wage bill and had been hoping that he would accept a move to Galatasaray who have already made an offer.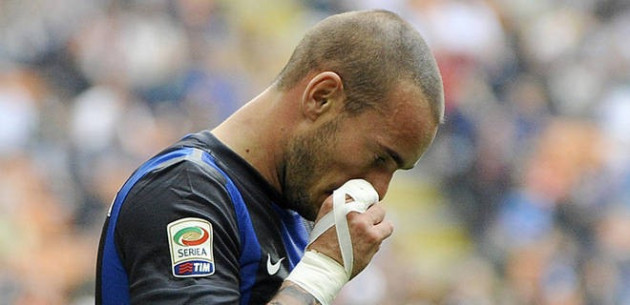 The Turkish side had hoped that they would be able to tie up a deal by the weekend but Sniejder has suggested that he wants to assess his options and Italian newspaper Gazetta dello Sport believes that he is holding out for a move to Liverpool.
The report suggests that the Holland international would prefer a move to the Premier League but is aware that there is unlikely to be interest from the bigger sides in the division like Chelsea and the two Manchester clubs.
Sneijder's comments also seems to suggest that he will look to consider his options over the coming weeks before making a decision.
"All players on the move in this transfer window must decide what to do and where to go by the end of January. I'll do the same," Sneijder told Gazzetta. "I am in no hurry and I don't want to rush this decision."
"After what has happened in the last few months, in the context of having made football history with my team-mates, well, I don't want to feel pressured," he added.
"After what I did, I don't want to feel this way - practically obliged to make such an important step in my life in a short space of time. It's not a money matter."
Liverpool currently have a policy where they prefer to sign players under the age of 24, and have suggested that they are not interested in the midfielder, but managing director Ian Ayre did admit that they would consider a more experienced and mature player if the deal was right.
"If we feel there's a particular position or player who can contribute to the group and is over that sort of age limit, it doesn't mean we won't consider that player," Ayre told the Liverpool Echo.
The former Real Madrid midfielder is now 28-years-old but he would bring a wealth of experience with 90 caps for Holland and a host of club honours to his name.