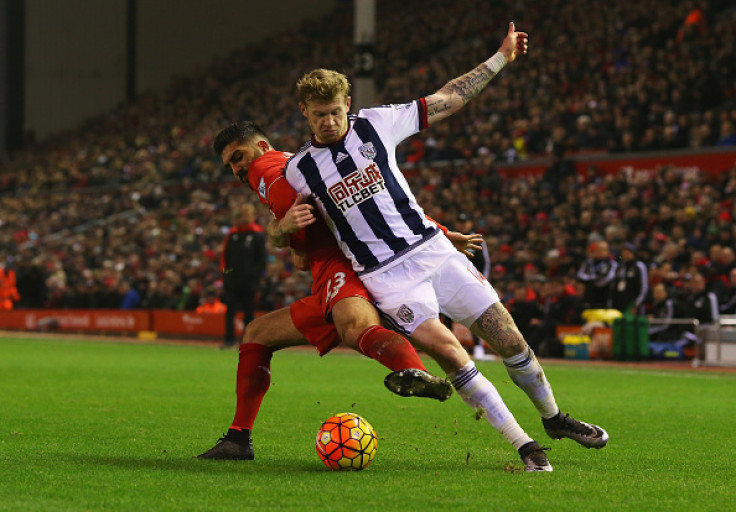 West Brom winger James McClean has branded Liverpool manager Jurgen Klopp "a bit of an idiot" after the German's altercation with Tony Pulis following their 2-2 draw with the Baggies at Anfield. The former Borussia Dortmund manager did not shake hands with the former Stoke City manager, an event which did not go down well with the player.
The Reds came back from being 2-1 down to level the game deep into extra time but Klopp was incensed by the tackle on Dejan Lovren which has ruled him out for three weeks with a gash on his knee. Klopp decided to sidestep Pulis after the game, saying: "Usually I shake hands, today I did not. It was not a friendly game, everybody saw it. I wish him (Pulis) all the best."
However, McClean felt the gesture was a sign of disrespect from Klopp, which was unwarranted by the Liverpool manager. Klopp was also involved in a major bust-up with the West Brom coaching staff after Divock Origi's equaliser, which further incensed the Irishman.
"I've got a lot of respect for the man because he done a great job at Dortmund," McClean told Sky Sports, as quoted by the Liverpool Echo. "But I think he is a bit of an idiot to be honest on the game on Sunday. Win, lose or draw you have got to be respectful."
The game was the second in a row that the Reds have failed to take full points from an ostensibly lesser team in the league, with their last game against relegation battlers Newcastle United ending in a 2-0 loss. Georginio Wijnaldum played a crucial role in each goal as the Reds slid down to ninth in the table after a promising week of performances.
Klopp will now be looking at the number of injury worries, especially in defence where they have four players out. Mamadou Sakho is expected to be back in the weekend, while Joe Gomez and Jon Flanagan are all out with long-term injuries. Daniel Sturridge is out yet again with a hamstring strain and is unlikely to feature before the New Year.