Fiorentina winger Juan Manuel Vargas could move to Liverpool this summer, according to the player's agent.
The Peruvian international has often been linked with a move away from Serie A, with Arsenal among those reportedly interested.
However the 28-year-old's agent says that Vargas could move to Anfield this summer, with La Liga big spender Malaga also interested.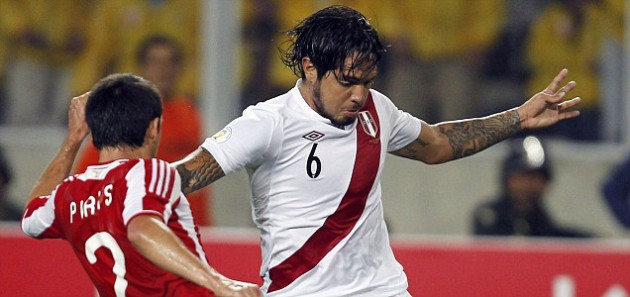 "There is the possibility that he (Vargas) will leave Fiorentina," Vargas' agent Jorge Cyterszpiler said.
"But at this time it's just a rumour and there is nothing official.
"He didn't have the best of seasons and he needs to make up for it next season.
"Liverpool is an option, but there is also Malaga that has the fascination of playing in next season's Champions League.
"Does he have a preference with regards to playing the Premier League or the Primera Liga? Vargas likes both leagues as well as the Serie A."
The Reds are yet to make any new additions following the appointment of manager Brendan Rodgers, after a splurge of spending last summer.
Under the direction of manager Kenny Dalglish and director of football Damien Comolli, the club recruited seven new players, including Stewart Downing, Jordan Henderson and Charlie Adam.
However, the trio, along with January recruit Andy Carroll, failed to sparkle during the campaign which saw Liverpool fail to qualify for the Champions League for a third successive season.
Their domestic form coupled with the club's handling of the Luis Suarez race affair, saw Dalglish and Comolli removed at the end of the season.
Vargas would provide Liverpool with an additional threat from wide, and would be a potential replacement in the first team for Downing, who endured a difficult campaign following his switch from Aston Villa.
He made 24 league appearances for Viola last season, failing to score in the entire season, and any potential suitors will be wary over his limited influence, given his age and stage.
Having already signing Lukas Podolski, and with Gervinho also in reserve, Arsenal are unlikely to make a move for Vargas, not least because of their policy of signing players somewhat younger.