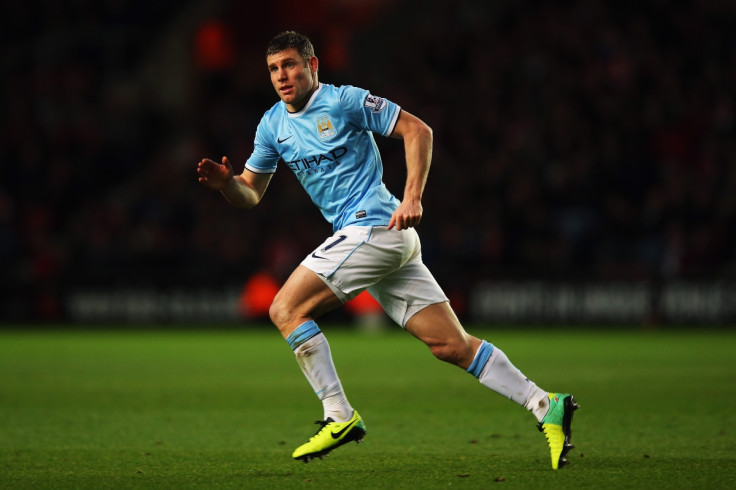 Liverpool are considering a move in signing Manchester City midfielder James Milner, according to Goal.
Last summer, the Reds were keen on securing the services of the 29-year-old, while Arsenal have maintained their interest in signing him. However, no deal took shape as the England international continued at the Etihad.
Milner played a key role in helping City win the Premier League title on two occasions. He was also instrumental in helping Manuel Pellegrini win the title in his debut season.
The former Aston Villa man has less than six months left on his contract and is yet to sign an extension with his current employers. Before the start of the season, it was reported that Milner, along with other star players at the Etihad will be handed a new deal.
However, the English midfielder is yet to agree to terms and is now eligible to talk to foreign clubs and sign a pre-contract agreement for a summer transfer. Milner is in talks with his current employers over signing a new four-and-a-half year deal, which will see him earn £90,000-a-week.
City should tie him up to a new deal in order to fend off interest from Liverpool and Arsenal, who are also in the frame to acquire Milner's services.
The Reds have allowed their skipper Steven Gerrard to leave Anfield on a free transfer as Liverpool legend announced his decision to leave Brendan Rodgers' side after the end of the season.
Meanwhile, Milner is hopeful that his contract situation at City will come to a conclusion very quickly so that he can focus on his performance on the pitch.
"I hope it will be sorted. We're still in talks. I'm waiting for the club to come back and hopefully they will soon," Milner explained.
"But the main thing is to concentrate on football, there are so many games coming up. If I'm not doing my job on the field because of off-the-field stuff then that's no good. So I let others take care of it and I just concentrate on football."
Should Milner decide to leave City, it is likely that he will continue in the Premier League as he is not willing to leave England and Liverpool are in pole position to acquire his signature. A move to Anfield for the midfielder will see him take Gerrard's place in the Reds' squad for the next season.