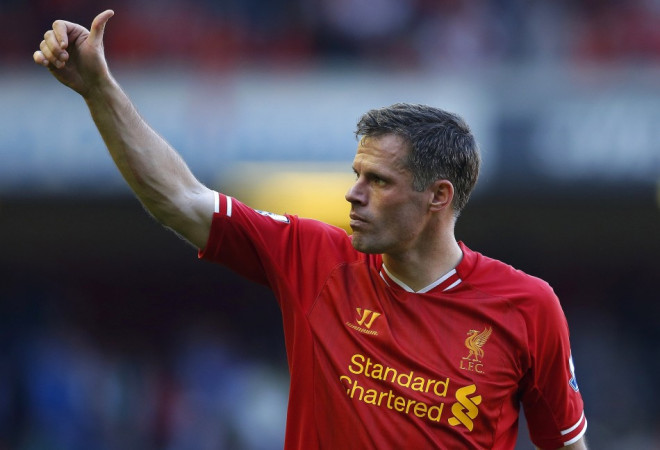 Jamie Carragher has heaped praise on manager Brendan Rodgers, claiming that the former Swansea boss has needed just two seasons to forge a team that can fight for titles while Rafa Benitez and Gerard Houllier needed four years to reach that level.
The Liverpool legend hung up his boots at the end of last season, after 17 years at Merseyside including a decade as vice-captain.
He is enthusiastic about Liverpool's chances of winning this year's league title and has written an article in Daily Mail explaining his feelings after the 3-0 victory over Manchester United at Old Trafford.
And despite winning the Champions League under Benitez, he suggests that Rodgers is doing an even better job for the Merseyside club.
"Liverpool, certainly, have the momentum with them and the biggest compliment you can give Brendan is that he has manoeuvred the club into a position to challenge for the title so quickly; Gerard Houllier and Rafa Benitez, for instance, took four seasons to get there," Carragher said.
"He is a coach who thinks progressively, coaxing improvement from his players with encouragement and giving them opportunities. He has been repaid with consistent performances and increasingly impressive results and you only have to see how Jon Flanagan, Raheem Sterling and Jordan Henderson have come of age during this campaign, maturing from boys to men," he added.
"What I like most about Brendan is that he is brave. Some managers won't tackle issues but Brendan is proactive. Within weeks of getting the Liverpool job, he sent Andy Carroll, the British record transfer fee, out on loan to West Ham. The popular Pepe Reina, similarly, was loaned to Napoli. His handling of Luis Suarez, most impressively, was strong."
Carragher claims that Liverpool are currently at the same level as the other top four rivals, suggesting that they are even favourites to win the Premier League.
"The impact of the result and performance will have been felt across Manchester at the Etihad Stadium, reaching Stamford Bridge and the Emirates Stadium in the process. Nobody will dare underestimate Liverpool now," the former Liverpool centre-back added.
"Manuel Pellegrini, Jose Mourinho and Arsene Wenger will have looked at the two games Liverpool have just faced, away trips to United and Southampton, and probably expected them to return with, at best, four points."
And he believes that in the case Liverpool conquer the Premier League, the achievement could be compared with some of the most important moments in the club's history.
"If Liverpool were to do it, the achievement would be on a par with Bill Shankly's FA Cup triumph in 1965 or Bob Paisley's European Cup success of 1977. Even though Liverpool have won 18 titles, this would feel like a first, such is the hunger and desire to get there."
The former defender also revealed the message that he sent to captain Steven Gerrard after his brace against United, comparing the victory to the one they achieved together in 2009.
"I punched the words 'Twice as good as 2009' into my phone. I know what it is like to go to Old Trafford and win by three goals but I couldn't tell you how it feels to go there, play United off the park and make them spend the last 10 minutes chasing shadows as Liverpool's ecstatic fans shout 'Ole!' with each tormenting pass," Carragher said.
"When we won 4-1 in March 2009, the final score was a little distorted.
"Don't get me wrong, our display was superb but we had to deal with spells of pressure, trailed to a Cristiano Ronaldo penalty and only pulled away in the last 13 minutes with two goals after Nemanja Vidic had been sent off."