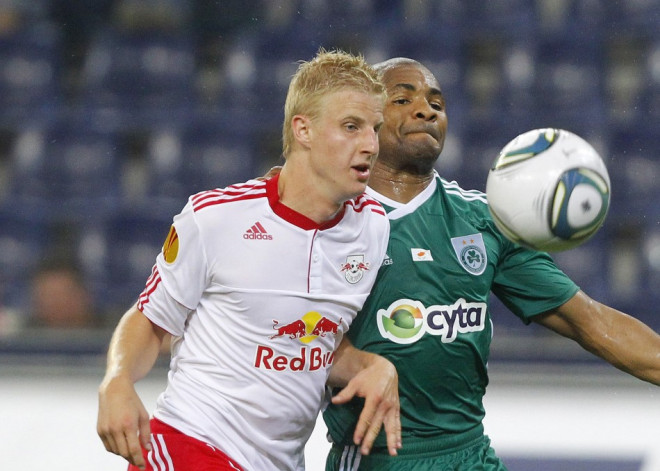 Liverpool are keeping a close eye on Red Bull Salzburg defender Martin Hinteregger, according to the Mirror.
The 21-year-old caught the eye when he successfully marked Luis Suarez in Austria's friendly against Uruguay in the recently concluded international break.
The tall and robust defender has been a consistent performer for his club and has the makings of a good Premier League player in the long run.
Brendan Rodgers is impressed by his persistence and is likely to bring him to the Reds line-up should they make the Champions League after a sizeable hiatus.
Arsenal are also believed to be interested with Thomas Vermaelen likely to be on his way out and Bacary Sagna yet to sign a new contract with the club.
Laurent Koscielny and Per merteacker are currently in charge of the backline at the Emirates and Hinteregger's introduction will come as a major boost for Arsene Wenger, who is always on the lookout to groom young blood and convert them into world beaters.
The Gunners travel to Germany to face Bayern Munich at the Allianz Arena on Tuesday with a mission to overturn the 2-0 deficit they had conceded in the return leg at the Emirates Stadium last month.
The north London have experience of having done the same last season when they defeated the Bundesliga leaders with goals from Olivier Giroud and Koscielny in either side of the two halves.
Mikel Arteta believes that Arsenal have it in them to thwart the Germans and take their previous experience as the impetus to keep their European dreams alive.
"Last year's [win in Germany] does create more belief that the result is possible. It is vital that we score a goal. Obviously [if we do] the game changes and the psychological game starts and that is where we could have an advantage," Arteta told www.arsenal.com.
"It is a tough place to come but we believe and we have been fighting the whole season to be in the Champions League and we don't want to throw it away. We will do our maximum to make it as difficult as we can and of course you can win any game 2-0 and this is no different," he explained.