Lucas Leiva has revealed that he came close to leaving Liverpool in the summer of 2010 when Roy Hodgson was appointed manager.
The Brazil international has become a vital member of the first team and one of the most popular players among the Liverpool faithful. However, it seems he considered quitting after Rafael Benitez left the club.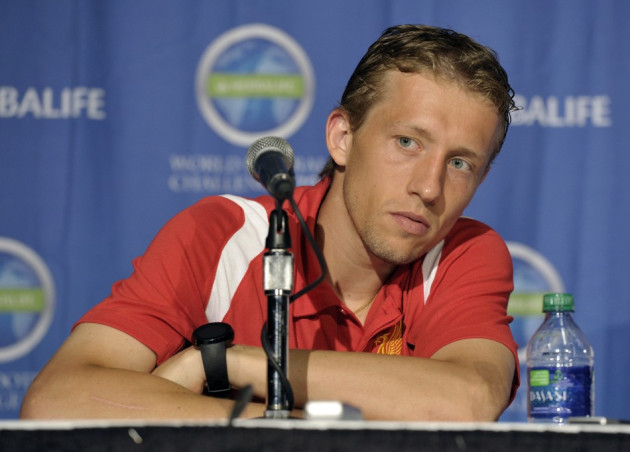 Hodgson took control in the summer of 2010 and quickly snapped up defensive midfielder Christian Poulsen who Lucas believed had been signed to take his place in the side.
The 26-year-old was wanted by a number of clubs in Italy but eventually made the decision to remain with the club, and once Kenny Dalglish took the reins he was soon back in the side and being named the Player of the Year.
"I felt as though it was almost the end for me at the club," Lucas told the Liverpool Echo. "I nearly left. I knew they were looking for players. They signed Christian Poulsen at the time, and that was a message for me, that I was not really in their plans.
"So I was really close to leaving to go to Italy. For some reason I did not go, I stayed. After a few games, I got my place back in the team and I started to play a bit more.
"Then Kenny came in. I really started to play with a lot of confidence and at the end of the year I was voted Player of the Season by the fans. So that moment was very important."
Having made the decision to remain at Anfield, Lucas is once again highly valued by manager Brendan Rodgers and is now one of the longest serving members of the squad having been there since the summer of 2007.
However, it was not always this way as the midfielder came in for plenty of criticism when he first made the move to Liverpool but he feels as though this has only made him stronger.
"A lot of people come now and say 'I'm sorry, I'm sorry I used to doubt you and used to boo you. I'm sorry, I was wrong'," added Lucas.
"Maybe if I didn't care about my career it would have been different. It could have been easy for me to say: 'I want to go back to Brazil and play my football there.' I had a lot of chances to leave the club through mutual consent. But I always felt that there was something saying to me that I still needed to prove something here."