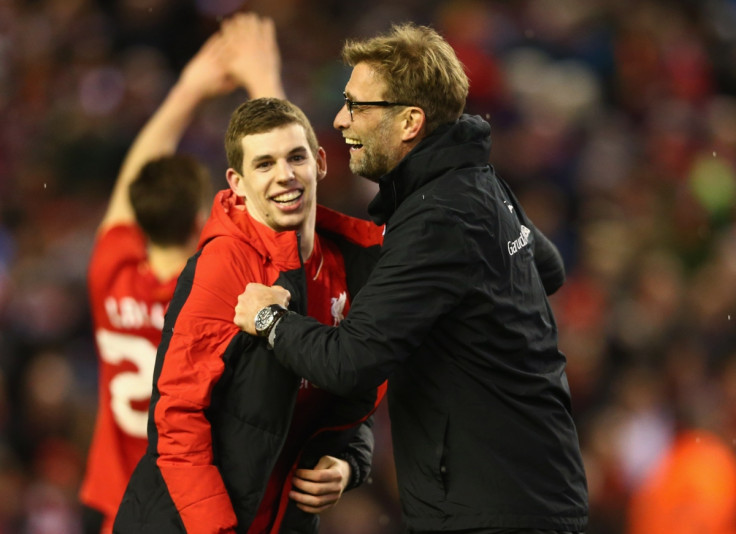 Liverpool manager Jurgen Klopp has all but confirmed that Jon Flanagan will commit his long-term future to Anfield with a new deal after revealing he has been personally involved in the negotiations. The former Borussia Dortmund boss said that he has not played a part in the financial details of the agreement but made the decision to keep him in the squad because he considers the 23-year-old full-back an important player for the future.
Flanagan's future at the club appeared to be under scrutiny after the versatile full-back was hit by recurrent injuries problems in recent years, having returned to action in January from around 20 months on the sidelines. Speculation over Flanagan had been gathering pace after Klopp decided to leave him out of the Europe League squad.
However, the manager claimed in the press conference ahead of the trip to Southampton that he wants him to stay, appearing to confirm recent reports claiming that a three-year deal agreement is all but done, with the Liverpool Echo claiming that it is expected to be signed today.
"I was a little bit involved in these negotiations and, of course, we are all especially happy for Flanno. It's good for us but I think in this special case with this long-term injury it's better for Flanno," the manager said. "Of course there are a few other full-backs in the world but not so many Scousers and not so many who came back after this. He had a difficult injury so it is, as I said a few weeks ago, he's our boy and we're really happy."
Klopp claimed he played a crucial part in the decision to reward Flanagan with the new deal after the full-back impressed him in his five appearances for the club since his return to action, including an excellent showing in the 3-0 victory over Manchester City.
"I'm not involved in the negotiations with the numbers, I don't sit together with the player and say 'that's too much' or something like this but, of course, I was involved in the decision that we want to offer him a contract and which kind of contract and things like this."
Asked if he would be involved in any other contract decisions, Klopp replied with a laugh: "All."