Man United v Liverpool: Five arrested as fans clash inside Old Trafford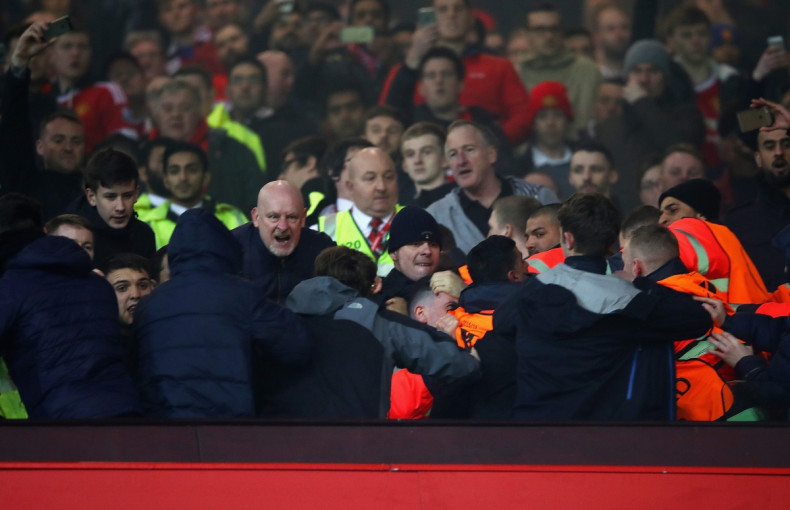 Four Liverpool supporters and one Manchester United fan were arrested following clashes between fans of the two teams at Old Trafford during the Europa League last 16 second leg tie. There were reports of fighting and missiles being thrown towards the end of the game which was drawn 1-1 ending United's participation in the competition.
Two Liverpool fans were arrested on suspicion of affray following physical confrontation after the final whistle. Another was arrested on suspicion of causing criminal damage after the window of a minibus was smashed. All three remain in custody. A fourth Liverpool supporter was given a caution after admitting setting off a flare during the match inside the stadium.
A Man United fan, arrested on suspicion of being drunk and disorderly, remains in custody. The brawls between the rival supporters broke out towards the end of the game which finished 1-1, sending Liverpool through to the quarter-finals 3-1 on aggregate.
Superintendent Jim Liggett said: "The policing operation for the Manchester United v Liverpool match has now come to an end and towards the end of the game there were a handful of concerning incidents which are currently being investigated. We have made a total of five arrests.
"However, the behaviour of the majority of fans in attendance was excellent and I would like to thank them for their co-operation throughout."
Prior to the game, police urged supporters to "act in a responsible manner" and spoke to both sets of fans via the supporters' associations. However, prior to the game a picture emerged on social media of a banner reading "murderers"along with the date of the Hillsborough Disaster draped over a bridge on the M602 motorway near Manchester which joins the two cities.
Police said they were made aware of offensive banner and officers were "immediately dispatched" to take it down.
Some Manchester United fans were condemned by their own club after the first leg following reports of "sickening" Hillsborough chants aimed at Liverpool supports during the game.
The club said in a statement: "It has always been the position of Manchester United that chants of this nature, which refer to historical tragedies, have no place in the game and do not reflect the club's values. We are discussing with fans to seek support in preventing this behaviour in the future."