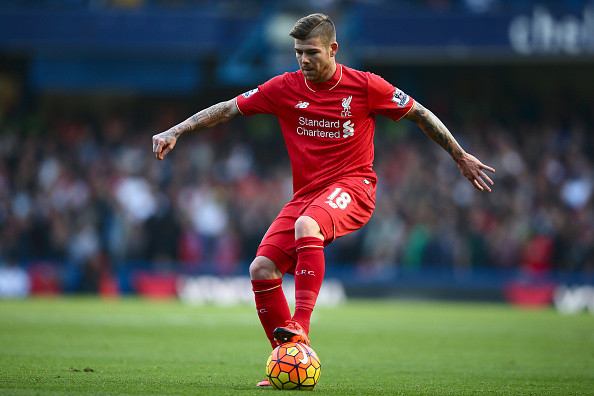 Jurgen Klopp has confirmed Alberto Moreno will undergo a late scan before a decision is made on his availability for Liverpool's trip to Southampton on Sunday 20 March. The Spanish left-back missed Thursday's 1-1 draw with Manchester United in the Europa League thanks to a hamstring injury. The German boss, meanwhile, hopes his other players can recover from an intense Old Trafford experience for the game at St Mary's.
Moreno played the full 90 minutes during the 2-0 first-leg victory at Anfield and was expected to retain his role in the return fixture. However, the former Sevilla full-back was forced to pull out of the game after suffering a hamstring injury in Wednesday's training session. Klopp remarked that the initial news was positive, but he did not want to take any risks with the Spaniard's fitness. Milner instead played left-back against United.
Asked if Moreno would feature against the Saints, Klopp said: "I don't know yet because we had to wait as long as possible to do the scan. A scan in the first moment gives you [only] a little insight and we did it after training at Old Trafford.
"We saw nothing in the scan, which was good, but Alberto is a player who ignores pain and he felt a little bit when he tested it so we could not take a risk. Today [Friday], I don't know when exactly, he will have another scan and it'll be much more clear if there's something there or not. If there's nothing, maybe we try him for Sunday, but I don't know exactly."
Klopp used arguably his best XI at Old Trafford, with Philippe Coutinho, Roberto Firmino and Daniel Sturridge leading the attack. However, he may need to rotate players in an attempt to address fatigue at Southampton, even though the game could be their last chance of staking any claim for a top-four finish.
"I can't set targets. It does not make much. There is only Southampton, then we have two weeks break where the players are all around the world. That's pretty difficult," he said as quoted by The Mirror. "Hopefully we have a good line-up against Southampton because it was intense yesterday. We need to figure out who will be available. Hopefully they all come back healthy. They have two very important games for their national teams. It is their last test before the squads are announced for Euro 2016."