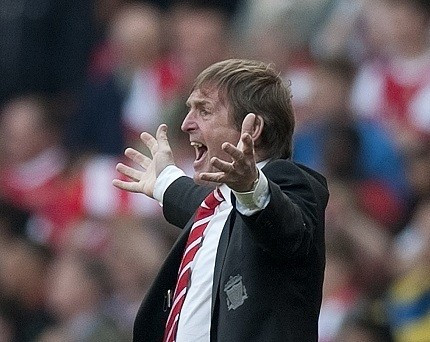 A report on ESPN suggests Liverpool will unveil their team's new manager on Friday and the final showdown is expected to be between Wigan Athletic's Roberto Martinez and Swansea City's Brendan Rodgers. The Reds have gone through a huge list of possible candidates, including former Chelsea boss Andre Villas-Boas, former Barcelona manager Pep Guardiola, former England manager Fabio Capello and Dutch coach Louis van Gaal.
According to a report in the Independent, Rodgers, who earlier refused to even talk to the Reds, has now emerged as the number one contender for the Merseyside job despite Liverpool still showing an interest in Martinez. When Swansea chairman Huw Jenkins held talks with Rodgers (regarding his future) on Tuesday, the 39 year old Irishman reportedly said he was interested in the Anfield offer. Meanwhile, Wigan chairman Dave Whelan, who said he still had not spoken to Martinez wanted Rodgers to take up the Liverpool job.
"I hope they sign him but I have not heard from my manager yet," the Mirror quoted Whelan as saying.
The 38 year old Spaniard, who was an early favourite to land the Anfiend post, stepped back after he was made aware Dutchman Louis van Gaal may be appointed as the new sporting director. It seems Martinez was hoping to have full control of the club's transfer policies and is now in a dilemma.
That seems to open the door for Rodgers, who is ambitious about working at a big club.
Jenkins earlier dismissed all speculation of Rodgers moving to Anfield and then successfully persuaded the former Reading boss to sign a new three-and-a-half-year contract, with a £5 million release clause, in January. Rodgers later revealed he had accepted that offer so the Swans could benefit if he decided to move on to a big club.
"I didn't put any clause in my contract to say if a top-four club comes in then I can speak to them. Not at all. The only item that was in the contract was if a big club came in and wanted me, and the chairman and I felt it was right for us to move on, then I wanted the club to benefit from it. That was very important for me that if I left the club would get rewarded. Other than that, I didn't want to instigate anything in the contract because I wanted to show I was happy here and continue to work," said Rodgers, according to the Guardian.
On the other hand, Whelan, who has no problems with Martinez making a move to Anfield, has given Liverpool time till Thursday to decide whether they want the 38 year old Spaniard or not.