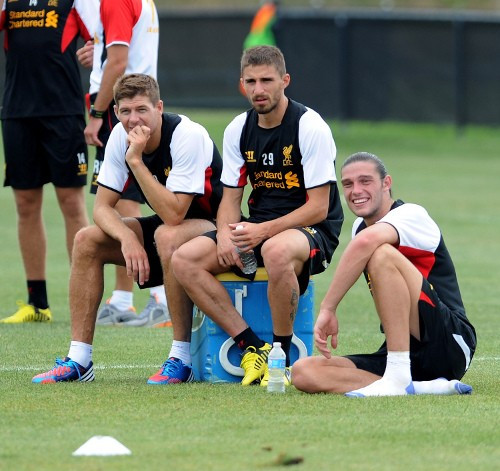 Liverpool boss Brendan Rodgers has stated that striker Andy Carroll still has a future at Anfield.
The 23-year-old, who has trained under the new manager for the first time after joining the Reds squad in Boston, has been heavily linked with a move away from Merseyside this summer, following speculation that the England international does not fit in the Northern Irishman's plans.
"Andy is a terrific young player. There is no doubt he is a terrific talent. There has been a lot of unfair criticism aimed towards Andy. He is a player who can play in a number of styles and it was a wee bit unfair on him [for people] to say he couldn't fit into the way I would want to play," ESPN quoted Rodgers as saying
"I had a brief chat with all the lads and over the next couple of weeks I'll be able to speak to them with more confidence and on a one-to-one basis. For me, your game is based on your players, the players you have. I am here to win games. We've got a number of very, very talented players in the group, of which Andy is one," the 39-year-old pointed out.
Carroll has been heavily linked with a return to his former club Newcastle United but it now appears that the striker could stay at Anfield.
Meanwhile, Carroll's Liverpool team-mate Fabio Borini has said that he joined up with the Reds earlier than expected to adapt to his new club more quickly.
The 21-year-old, who joined from Roma earlier this month, was given more time off due to his involvement with Italy at Euro 2012. However, the forward says he cut his holiday down as he wanted to get started with the Reds soon.
"I chose to come early because I think it's important to be with the team, especially because I'm a new player. I could have had a month [off] but I didn't play at the Euros. I chose to come early to get used to the team and adapt more quickly. I am desperate to get started," the club website quoted Borini as saying.
"It was good, nice to be back and playing some football with the boys, with the English boys who were at the Euros. To play as a Liverpool player and see the fans outside was very nice. The England boys were really nice with me," the Italian added.