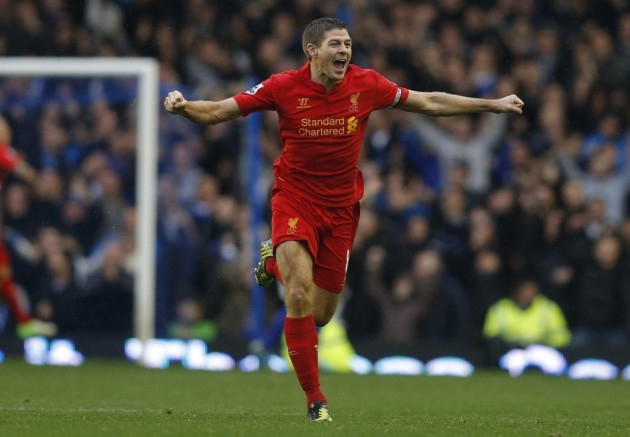 Liverpool Manager Brendan Rodgers believes that Steven Gerrard will contemplate quitting international football after the World Cup to extend his Liverpool career.
The England captain has been an integral part of the Three Lions' qualification campaign and his goal against Poland sealed their qualification into the 2014 Fifa World Cup. However, the exertions of playing week in and week out are having a telling effect on the England international who showed his age against Arsenal as the veteran was brushed aside by an Arsenal midfield who dribbled past him with relative ease.
The 33-year-old has been included in Roy Hodgson's squad to face Chile and Germany in the upcoming friendlies and Rodgers is hoping that the former Liverpool manager will take care of him and give him ample rest in the following fixtures.
The midfielder has started in all of Liverpool's Premier League fixtures, including England's World Cup qualifiers this season and needs some rest to rejuvenate him and prepare for a tough run in the Premier League.
"I think it's something he will assess and look at. If you go to a World Cup in Brazil at 34 years of age you might not have many more championships left in you. Very few players do. I can think of (Javier) Zanetti and (Paolo) Maldini who have played on late but it's rare. Steven is a real talisman for the group. He is a real leader for the team and everyone there. Whether he plays in the two friendlies or not is another matter. There are absolutely times when you can rest him and I think that is important for him," Rodgers said.
"But, for Steven, he probably looks at it as though this is his last international year and after the World Cup that will be all finished and he will have time to rest. He and Roy have a good relationship and I'm sure if he needs a breather in these two games he will get it," he added.