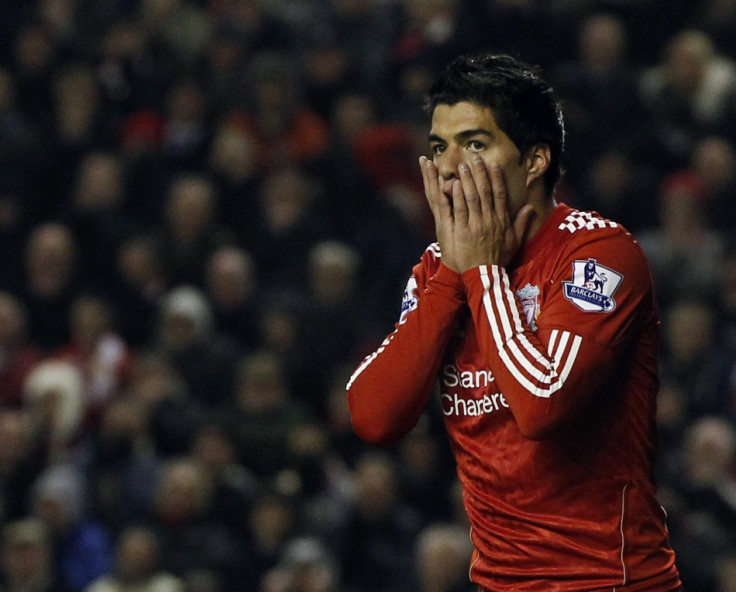 Uruguayan striker Luis Suarez has once again caused controversy, after ill-advised comments made by the Liverpool player re-opened his racial abuse case (filed by Manchester United defender Patrice Evra against the South American), despite being warned by his club to not bring that issue up again.
The 25 year old striker claimed Manchester United used political influence to get him banned for eight games following racial comments supposedly directed at Evra. The former Ajax man said the racism trial had such an impact on him he nearly cried at the end of the sentence. Suarez, who is preparing for the 2012 Olympics in London, went on record to offer insights into the trouble and controversy between himself and Evra.
"It was so hard what happened to me. I don't show my emotions on the field, but outside I do - and I cried a lot with all the Evra stuff. The trial (disciplinary hearing) week was so complicated for me. My wife and I cried a lot during that week," the Mirror quoted Suarez as saying. Suarez claimed United's real motive was to make sure Liverpool would be affected.
"People at the club are sure that it was a way that Manchester United used to put me out of the team and stop Liverpool," said Suarez, according to a Daily Mail report.
The Most Valuable Player at the 2011 Copa America also claimed the follow-up controversy - where he refused to shake hands with Evra during a comeback game against the Red Devils - was actually started by Sir Alex Ferguson's captain. Nonetheless, Suarez was forced into making a public apology by Liverpool.
"Before the match against Man United, I promised my wife, the manager and the directors that I was going to shake my hand with Evra. Why not, I thought, because I had no problems with him. I had been punished because of him, but I had no problems with shaking hands," The Telegraph quoted Suarez as saying.
"The media in England showed the moment when I passed in front of him, but they didn't see that he had his hand low before. Only the media in Uruguay but also in Spain showed that I wanted to shake his hand. But in England, Man United has this political power, and you have to respect that and shut your mouth," he added.