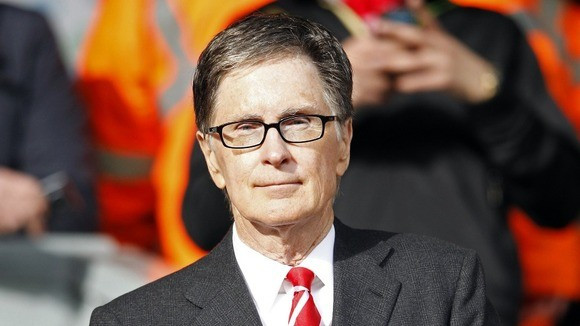 Liverpool's American owner John W Henry says Brendan Rodgers' side has exceeded expectations this season by staging a late bid for the Premier League title.
Last weekend's 3-2 victory over Manchester City was the Reds' 10th successive league win, giving them a two-point advantage over second-placed Chelsea.
Four straight league wins between now and the end of the season would give Liverpool a first league title since 1990 and Henry says the club have surpassed pre-season targets by challenging for the league
"We had our sights set on a top-four finish because we're building," Henry told BBC Sport.
"It's a challenge with the way the league is structured, so if we were fortunate enough to win this year, I would say we're ahead of schedule."
"We've been a part of something really incredibly special here [Boston] - we're beginning to feel we're a part of something really special there."
Amid significant investment in the transfer window, which brought eight new players to Liverpool last summer, the club are also in the throes of redeveloping Anfield.
Owners Fenway Sports Group are expected to invest £260m into overhauling Anfield and the surrounding residential area. This will help Liverpool compete financially with their rivals, including Arsenal and Manchester United.
"The history (at Boston) is irreplaceable. It's the same at Anfield," Henry added.
"You've had European nights there and historic days that could never be replicated. People come from all over the world.
"When (Liverpool chairman) Tom Werner and I were in Warsaw at a European Club Association meeting we were told by a number of executives from other clubs that the best experience they've ever had was at Anfield.
"So, we're committed to doing whatever it takes to get Anfield to where it needs to be over the next 20, 30, 40, 50 years and its challenging but it's also rewarding and we'll get it done."