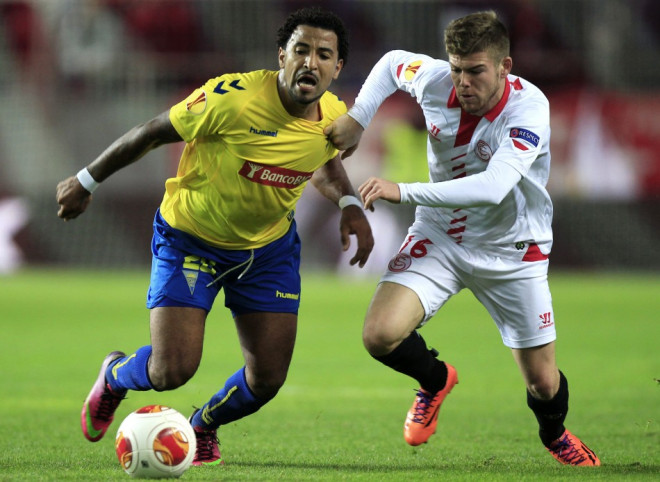 Liverpool are preparing a £15m bid for Sevilla left-back Alberto Moreno, who has long been regarded as one of the hottest prospects to come out of Spain.
The defender is expected to be available for a fee in the range of £15m with Real Madrid also interested in his services, accordng to the Mirror.
Spanish media had claimed that the player is on his way to the Santiago Bernabeu but his agent has quashed the claims, claiming his future will be decided at the end of the season.
The Reds are light on the left side of defence, with Luis Enrique suffering from a knee injury which is showing no signs of recovering.
Some reports suggest the Reds are willing to pay over the odds for his signature and to stifle Madrid who are unlikely to get into a bidding war, with more pressing concerns in midfield and attack to address.
Liverpool have more or less established their position in the Champions League for next season and are now gunning for the title which they last won in 1990.
Their 3-0 win over Manchester United will give them further impetus to surge forward after what has been five fruitless years for the Merseyside club.
Meanwhile, Steven Gerrard has praised the young guns around him following the win at Old Trafford, stating that these young players have kept him going by doing all the dirty work.
"They've done all my running for me, so long may that continue," Gerrard told Liverpoolfc.com.
"I think the key to this football club is to always have top players who are experienced and who have got the know-how to look after young players.
"I think the form of Sterling, Allen, Henderson, Flanagan, to name a few, has been excellent - and we've still got other youngsters who are just about to peak. We've got a fantastic mixture of age from young to old.
"I'm feeling the oldest in the group now. They keep me young and they keep me working hard. I'd love nothing better than to lead them to a successful season," he concluded.