Liverpool Star Luis Diaz's Father Kidnapped By Rebel Group, Confirms Colombian Government
Luis Diaz's parents were kidnapped from La Guajira on Saturday.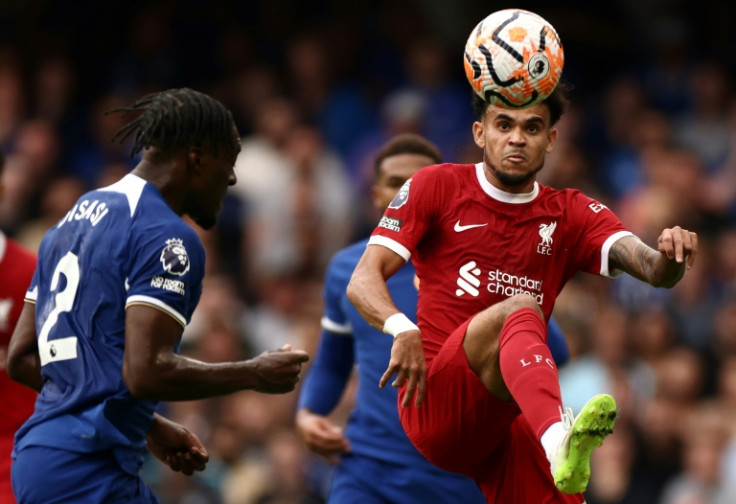 Liverpool star Luis Diaz's father has been kidnapped by left-wing rebels of the National Liberation Army (ELN), the Colombian government has confirmed.
Diaz's father Luis Manuel Diaz and mother Cilenis Marulanda were abducted at gunpoint on Saturday (Oct. 28), with the CCTV footage showing their car being followed by men on motorcycles on Saturday afternoon. The incident happened when Diaz's parents were at a gas station in Barrancas, a region in Colombia's northern La Guajira state.
The player's mother was left behind in a car by the kidnappers as police closed in, but the gunmen managed to take his father. A massive operation, run by Colombia's army and police, is currently underway to free Diaz Sr. and it involves roughly 230 police and army commandos, a Black Hawk helicopter and the use of an airplane with heat-detection sensors.
Colombian govt's statement
The Colombian police initially claimed that they believe Diaz's father was kidnapped most likely by a criminal gang. But on Thursday, a government delegation, which is currently undertaking peace talks with the rebel group, said that it had "official knowledge" that the kidnapping had been carried out by "a unit belonging to the ELN".
The ELN, Colombia's last recognised guerrilla group, started as a leftist ideological movement in 1964 before turning its attention to crime -- focusing on kidnapping, extortion, violent attacks and drug trafficking. The ELN group is said to currently have an estimated 2,500 members.
The main remaining guerrilla group, which is supposedly most active in the border region with Venezuela where Diaz's parents live, has been labelled as a terrorist group by some media outlets.
The head of the government delegation negotiation with the ELN, Otty Patino, demanded the immediate release of Diaz's father.
"We remind the ELN that kidnappings are criminal acts which violate international humanitarian law and that it is their [the ELN's] duty as part of the current peace process to not only stop engaging in kidnappings but also to forever stamp them out," a statement from the government read.
The majority of the search operation has been carried out on the Serranía del Perijá, a mountainous area spanning across the Colombia-Venezuela border. La Guajira, the hometown of Diaz's parents, is a desert region bordering Venezuela and is known to be a hotspot for armed groups smuggling contraband and cocaine.
Diaz Sr's kidnapping causes outrage in Colombia
The police have found two motorbikes and a car they think were used in the kidnapping but have not figured out Diaz Sr's whereabouts, according to reports in English media.
The kidnapping of Díaz's father has led to an outrage in Colombia, where the striker - who is part of Colombia's national team - is very popular. On Tuesday, hundreds accompanied Diaz's mother, Marulanda, on a march to demand her husband's release from the ELN group.
Liverpool's unwavering support for Luis Diaz
Diaz has been urged to stay put in the UK and not travel to Colombia for safety reasons. He has missed two Liverpool games over the last week, with the side beating Nottingham Forest in the Premier League and Bournemouth in the League Cup.
The Colombian striker has received immense support from his Liverpool team, with boss Jurgen Klopp dedicating the 3-0 win over Forest to Díaz, saying they had won "for our brother". Portuguese forward Diogo Jota, who scored the opening goal against Forest, paid a heart-warming tribute to Diaz. Surrounded by his teammates, Jota held up the Colombia player's No. 7 shirt, in front of a jam-packed Anfield. Even after the game, most of the Liverpool squad put up social media posts as they dedicated their victory to Diaz.
Liverpool's assistant coach Pepijn Lijnders said that the entire team was praying for Diaz and his family, ahead of the Reds' League Cup match against Bournemouth earlier this week.
"We really care about him. The only thing now for us is we try to support him as much as we can. A lot of things are out of our hands – what's completely normal. We hope that the authorities there that they can find his dad and that everything is good. We just pray for that," added Liverpool's assistant coach.
© Copyright IBTimes 2023. All rights reserved.