Stewart Downing and Fabio Borini are both aiming to re-find their top form and show Brendan Rodgers they are worthy of starting spots in the Liverpool side, as the duo struggle in their second and first seasons at Merseyside respectively.
Downing made the move to the Reds last summer, and was touted for big things as his Aston Villa teammate Ashley Young headed for Manchester United.
So far, the winger has failed to produce the form that Young has at Old Trafford, struggling to clock up any goals or assists in his first season with Liverpool.
But with a new manager and a new style of play coming into Merseyside, Downing says he is willing to work as hard as he can to prove that he's worth every penny in the Liverpool squad.
"I fought very hard when I was at Aston Villa to do well for them and get a good move to Liverpool," he told the Echo. "The only thing I can do is keep working hard and when the chances come make sure I take them.
"I'll fight for a place here. My aim is to get back in the team and prove the manager wrong."
Downing also insisted he is completely committed to the club, saying: "I love playing for Liverpool and it's a great club with great fans. I don't want to leave and I don't want to play for anyone else.
"I'm enjoying it here. Yes, I'm disappointed that I'm not in the team at the moment but football is a funny game.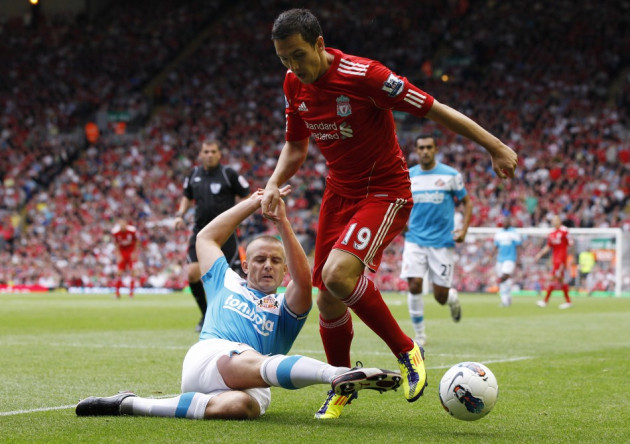 "Things can quickly change. This time next month I could be playing every week."
Borini, meanwhile, is still in the transitional phase and hoping to prove himself to Rodgers for the second time after the two worked together at Swansea.
The striker will be heavily relied on this season after Liverpool were unable to bring in more firepower on deadline day, and though he has yet to score in the league, Borini is confident the goals will come.
"With the [first] Premier League goal, it is just a matter of time," he explained to Sky Sports. "As a striker, if you get into the right positions and you keep getting there, they [goals] will come.
"At Liverpool the expectations are always high because it is a top club and it has to be this way.
"If I have come here, it is because I also have big expectations - that is why I chose this club."
The duo will have a chance to impress as Rodgers experiments with his line-up for Liverpool's Europa League match against Udinese on Thursday night, but while Borini will no doubt be given more time to show his worth, Downing's time appears to be running out to make an impact on the squad.