Interest Denied In Liverpool's Goal Scoring Saviour
Roberto Mancini insists he knows nothing about a bid for Liverpool star striker Luis Suarez
Roberto Mancini has insisted that he is unaware of any bid by Manchester City for Luis Suarez, after the Liverpool striker was subject of rumours over a possible January exit.
Suarez has been on fire for the Reds this season, and with Mario Balotelli falling out of favour with City, it was thought that Mancini might make a play for the Uruguayan in the winter transfer window after his brilliant performances for the Merseyside club.
Liverpool have since denied any speculation surrounding a transfer, with Brendan Rodgers insisting that the club are hoping to keep Suarez for the long term, and Mancini now says that he doesn't believe there would be any reason to purchase another striker, let alone one who plays for the Reds.
"It is not true, I don't know," he told Sky Sports. "We have a good team and we don't need to buy another player in January.
"We can't buy Suarez or another player because we have four strikers and Suarez plays for Liverpool."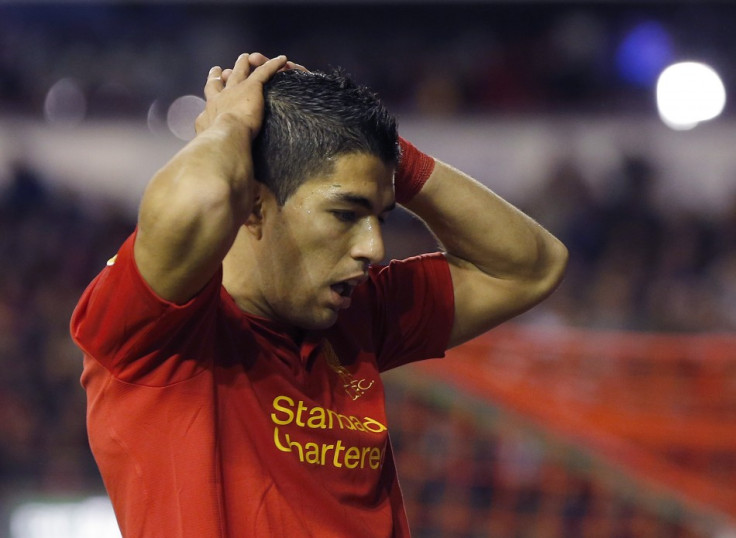 Mancini was considerably upbeat at his press conference in preparation for the Aston Villa match, wearing a mask of David Platt into the room as he joked with journalists about the assistant standing in for the City manager the week before.
And as the talk centred around Suarez and a bid to buy the Liverpool star, Mancini said that the speculation was as meaningless as that over his own future.
"For two weeks we talk about Monaco, after [Pep] Guardiola, after another manager, now Suarez, now Mario [Balotelli]," he said.
The Italian continued on Balotelli: "Mario didn't play because it was my choice. I have 20 players and if there are some players that don't work well, they don't deserve to play.
"There were other players that worked better than Mario and they deserve to go on the bench."
Without Suarez's goals for Liverpool, the Anfield side would currently be 20th on the table and would be in a lot more trouble without his performances.
Rodgers has stressed the importance of bringing in a striker in January to help Suarez, and said today that the ambition of the club needs to be clear if they hope to keep hold of their most precious star.
© Copyright IBTimes 2023. All rights reserved.