Jay Spearing says he's still hoping to make his career at Liverpool, with the midfielder about to undergo a season-long loan at Bolton in the hopes of playing more first team football.
The Reds underwent a serious cleanout in the final weeks of the summer transfer window, with Rodgers admitting that he would be looking to be honest with the players who wouldn't be getting any chances this season.
And though Spearing will spend an entire season away from Anfield, the 23 year old says he plans to make a successful comeback after his spell at Bolton.
"I don't see why I can't have a career at Liverpool," he told the Bolton News, via Sport Review. "But I am at Bolton now and I want to produce some good games to get us up into the Premier League.
"I am here for the whole season and I think we will be up there fighting.
"I am ready to play for Bolton and I am going to put in 100 per cent every game and try to get as high up the league as possible."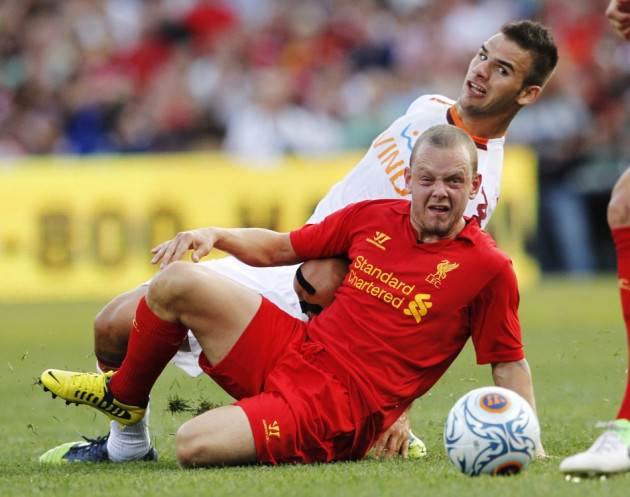 Spearing also revealed that he spoke to Rodgers frankly about where his future lies, with the need to get more game time taking precedence over staying on the bench for Liverpool.
"At this stage of my career, I do need regular football and that's one of the big meetings I had with Brendan," he explained. "If I want to push on with my career, I need to play more regularly.
"He sat me down and we had a really good chat. We both told each other the truths of how we thought the season was going to go.
"So, we decided it would be a good experience for me to come out and play some football. I had a few opportunities to go elsewhere but it's not about that now."
Liverpool are currently struggling after a particularly disappointing deadline day, in which the side were unable to land highly sought-after target Clint Dempsey. But with Spearing planning on showing how good he can be for Bolton, and in hopefully helping the side get promoted back into the Premier League, he may be in with a shout with Rodgers come next summer.