Dirk Kuyt and Maxi Rodriguez will both have their futures reviewed at the end of the season, according to reports, as Liverpool decide whether the duo are worth holding onto after undergoing a big change in their transfer policy.
Both had looked set for a summer exit, with Kuyt fielding interest from the likes of Feyenoord and Rodriguez being handed particularly limited game opportunities. Damien Comolli had also reportedly insisted that they be sold in the summer to make way for new talent.
But since Comolli left the football director post at Liverpool by mutual consent, the side have decided to reassess both Kuyt and Rodriguez's futures, according to the Liverpool Echo. And The Sun claims that they could in fact be given a lifeline to stay at the club for another season and prove their worth, as the board reassess their transfer scope.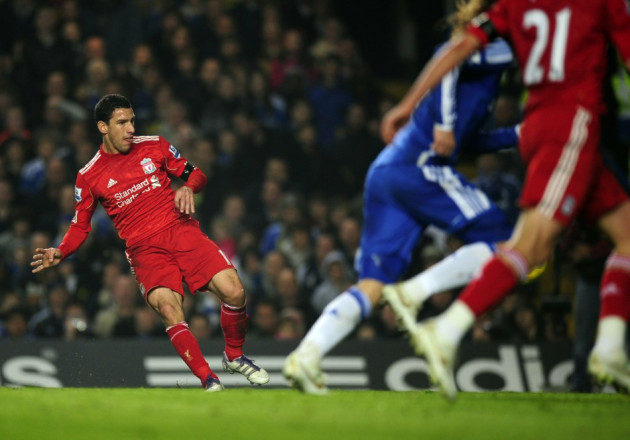 Rodriguez has starred in recent weeks for the Reds, scoring a brace against Blackburn to take Liverpool to a much needed win and having a hand in their 2-1 FA Cup semi-final win over Everton.
Kuyt has also received more game time over the past month, mentioning against Newcastle, Aston Villa and West Brom throughout April.
Dalglish will be planning on building on the Liverpool squad again come summer, after the side endured a disappointing season in the league.
While they can be proud of winning the Carling Cup, and possibly the FA Cup as well, the aim of getting back into the Champions League now looks lost for the Merseyside club, and with singings from the last two transfer windows still failing to deliver, Dalglish is under increased pressure to show that it was Comolli, and not himself, who produced the great errors over last summer and January.
Liverpool have won just two of their last ten matches, and Kuyt told the Daily Post that their recent results in the league haven't been good enough.
"It has been a frustrating for us during the last couple of weeks," he said. "But throughout the run of disappointing results we have worked really hard in training as we all want to prove, as individuals and as a team, that we are better than our league position shows at the moment.
"We have lost two many games and too many points in the league but we still have something in front of us. We have the possibility of winning two cups which would give us a great boost.
"Whatever happens, we will not be happy or satisfied with the position in the league.
"Sometimes we've been really close to winning games and we have felt that we've deserved to win them. But you can't feel sorry for yourselves.
"At the end of the day you have to look forward and I think the way we played against Blackburn and Everton showed we weren't feeling sorry for ourselves.
"We can't look back; we want to change things and we will be doing out best to try and do that."