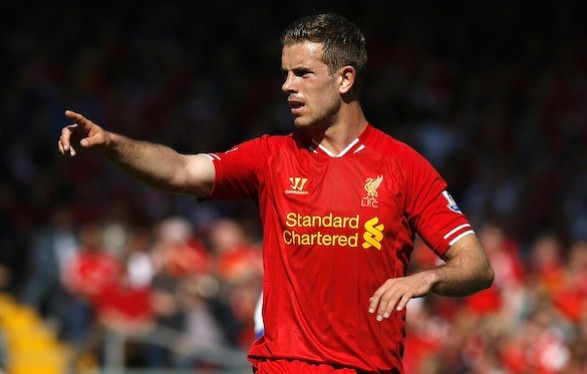 Jordan Henderson has revealed that he had the chance to leave Liverpool when Brendan Rodgers became manager, but chose to stay and fight for his place, a decision the midfielder is now glad he made.
Henderson joined Liverpool in summer 2011 under Kenny Dalglish for £16m and was touted as a prospect for both the Reds and England. But he failed to deliver in his first season with the side and exit rumours were mounting when Dalglish was ousted in favour of Rodgers.
But the 23-year-old has since become an important member of Rodgers' squad.
"I got down when I wasn't playing very well. I'm probably my biggest critic," he told the Telegraph. "There was an opportunity that got brought to me but I wanted to fight for my place.
"The manager was happy with that. Even when I wasn't playing, he was still helping me, which meant a lot; a lot of managers will forget about you.
"I always felt he believed if I could do the things he was saying, he would give me the opportunity and he did. I kept working hard and repaid the faith he had shown in me. The manager has been brilliant since he came in."
Henderson has often attributed his improvement with Liverpool to Rodgers, who has made it his mission to help youth players star for the first team while lifting the seniors to challenge for Champions League football and trophies again.
Henderson also name-checked Steven Gerrard and Lucas Leiva as great teachers as he continues to develop his skills and makes a serious play for a spot at Brazil 2014 with England.
"I've improved positionally, getting in certain angles to receive the ball and going forward," he explained. "Defensively, I've been making sure if I'm in the middle that I'm not running everywhere, leaving gaps.
"I watch Stevie. He's a massive idol for a lot of people and certainly me. I look at what he does very well and try to put that into my game.
"He talks to me all the time, wants me to improve, helps me. I also learn from Lucas: defensively he's very good on the transition, getting the ball back quick. I also try to learn from Joe Allen, another central midfielder very good at making angles to get on the ball and go and play forward.''