Real Madrid are considering a summer bid for Liverpool striker Luis Suarez. Spanish newspaper Marca believes the Santiago Bernabeu club management are, however concerned about the player's disciplinary record. Should they make a move, Marca believes a bid of €40m will be needed.
The 27-year-old Uruguay international received a 10-match ban towards the end of this season, for biting Chelsea defender Branislav Ivanovic during a Premier League game. Suarez was disciplined for a similar biting incident while at former club Ajax and has also been punished for racially abusing Manchester United defender Patrice Evra.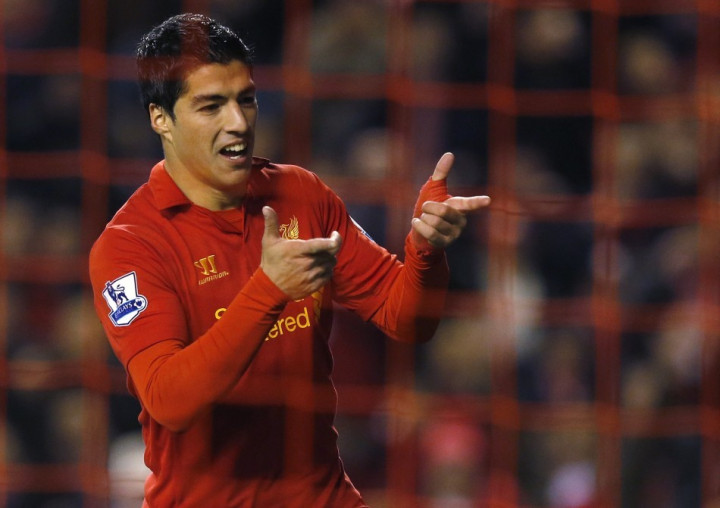 The Ivanovic incident in particular led to sustained speculation Suarez would be sold, with former Liverpool player Graeme Souness labelling the striker an "embarrassment" and manager Brendan Rodgers admitting he could lose the player.
News of a Madrid bid comes after reports hinting at summer exits for both of the club's senior strikers. Argentine international Gonzalo Higuain is expected to leave in the summer, with Arsenal a possible destination. France international Karim Benzema has also been linked with the Gunners but Madrid have not confirmed an exit for the former Olympique Lyon man.
Madrid's rivals, Atlético Madrid, and Bundesliga champions Bayern Munich have also been linked to Suarez.
José Mourinho on Jamie Carragher
Meanwhile, outgoing Madrid boss José Mourinho has labelled former Liverpool defender Jamie Carragher an "artist". The 35-year-old ex-England international retired at the end of this season and Mourinho, who will leave Madrid this summer and possibly rejoin former club Chelsea, believes the defender was a brilliant team player.
"Normally, the world of football cries when what they call 'the artists' finish their career. But people don't really know what an artist is. For me, the artist is a guy who gives everything to his manager, to his club, to his fellow players on the pitch. And I think Jamie represents all of this. [These players] for me are the real artists, so when one of them finishes their career, I'm always a bit sad," he told LiverpoolFC.com
"But [his decision to retire] is one that he has made for the good of his family and to enjoy a different kind of life. He leaves on a high by showing everybody that he can keep going. I wish him and his family well," he continued.