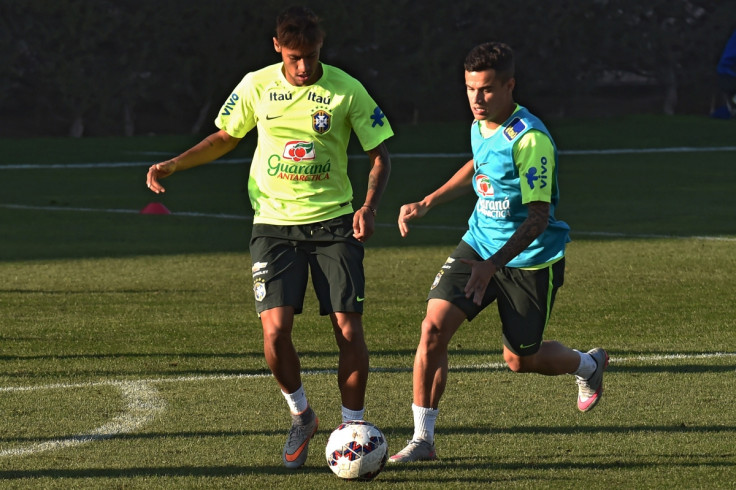 Barcelona forward Neymar has given Liverpool supporters cause for concern by claiming that fellow Brazilian Philippe Coutinho would fit in nicely at the Nou Camp. The 23 year old paid further compliment to his compatriot's talents by claiming he has the style necessary to play for the reigning La Liga champions.
Having moved to Merseyside from Inter Milan in January 2013, Coutinho progressed quickly under Brendan Rodgers and now commands status as one of Liverpool's most important attacking options in the post-Luis Suarez era. After scoring eight goals and laying on seven assists in all competitions last term, he provided a reminder of his quality on the opening weekend of the 2015/16 campaign with a stunning long-range winner against Stoke that helped avenge the humiliating 6-1 defeat suffered against Mark Hughes's side back in May.
Although the former Vasco da Gama and Espanyol loanee was subsequently dismissed for two yellow card offences in a dismal home loss against West Ham, he was restored to the starting line-up for the Europa League trip to Bordeaux last week and made his Premier League return in the 1-1 draw against newly promoted Norwich on 20 September. Coutinho also linked up with the Brazil squad during the recent international break for friendly matches against Costa Rica and the United States, where Neymar received another opportunity to witness his quality first hand.
"There's a lot of Brazilian players that could be playing for Barcelona," he said at a recent promotional event, as reported by Catalan daily Sport. "One of them is Philippe Coutinho. He's a great player and he has Barcelona's style."
Selling Coutinho is likely to be the last thing on Liverpool's wish list during the next couple of transfer windows, particularly if they show no improvement from an inconsistent start to the season that has yielded just eight points from their opening six games. However, as witnessed with the £75m ($116m) deal that took Suarez to Barcelona, the Catalan giants are quite a difficult proposition to resist when not operating under a transfer embargo.
Steven Gerrard, who himself left Anfield over the summer in favour of a move to Major League Soccer outfit Los Angeles Galaxy, has previously been effusive in his own praise of Coutinho and believes he may also be presented with the alluring option of a high-profile transfer to one of Spain's top two before long.
"Philippe is wonderfully gifted and I expect him to become Liverpool's leading player," he wrote in his new autobiography My Story, released earlier this month. "Many Liverpool fans already regard him as our main man. He has just signed a new deal and he and his wife – who are a lovely couple – seem settled here.
"But I also know that the Spanish giants, Barcelona and Real Madrid, will come looking for Philippe in a few more seasons, just like they did with Luis. And that is when it will get tricky for Liverpool because the lure to go to one of those two clubs is strong for any South American or Spanish player. Until that happens, Liverpool should really treasure Philippe."