Liverpool are reportedly weighing up a £6.5m move for Sunderland goalkeeper Simon Mignolet.
Brendan Rodgers has been searching the market for an experienced shot-stopper and, according to the Mirror, the Northern Irishman has now earmarked the Belgium international as the man the club needs behind their back-four.
The Reds' current No. 1 Pepe Reina is expected to leave Anfield this summer, especially after the Spaniard admitted it would be difficult to turn down a move to his former club Barcelona, as a direct replacement for soon-to-leave Victor Valdes.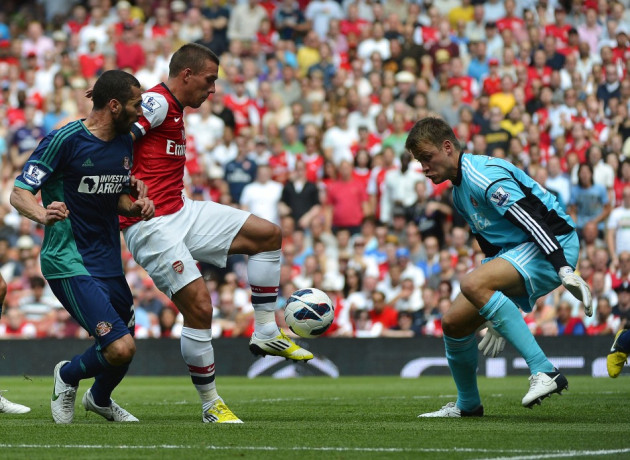 Liverpool have been heavily linked to Stoke City's Asmir Begovic in recent weeks but it has now emerged that Mignolet is their top target. The 25-year-old started all 38 Premier League matches for Sunderland last season, keeping 11 clean sheets and making 149 saves.
The report claims Rodgers has now been given the green light by the club's hierarchy to launch a formal bid for Mignolet. The offer could be tabled soon, with Sunderland's response expected in the coming weeks.
It is also understood the Liverpool manager also has a back-up plan, should the Black Cats reject his approach for their No.1. Rodgers would then attempt to sign Real Madrid's Diego Lopez, who is likely to be replaced by club legend Iker Casillas, following Jose Mourinho's exit.
Vaughan Hopes to End Injury Woes
Meanwhile, Sunderland midfielder David Vaughan stated he hopes to have "turned a corner" as he battles to recover from a long-standing groin problem.
The 30-year-old managed just six league starts for the Black Cats last season, having struggled to manage the injury.
"It was an issue all season really [the groin injury], and probably last season a bit as well. Hopefully, though, I've turned a corner and it won't be too much of an issue next season," Vaughan said.
"I think you reach your best form when you're playing consistently, and that has been something of a struggle for me at times. Next season though, fingers crossed, I'll be injury-free and be able to make more of a contribution," the Welshman added.